"I'm moving to London – where should I live?" This is one of those unquantifiable, practically un-Googleable questions. You'd think the easiest thing to do would be to pick the name of a tube station you like the sound of (Angel, anyone?), if not the location of your favourite TV show. But sorting out somewhere to live is a lot simpler than it seems – and the ways in which you can are changing.
With buying property in the city increasingly out of the question for many (for some, it's a dream never to be realised), renting in London is the best way to get your foot in the door of the city. And even if it might hoover up 89% of your disposable income, renting a place allows you both the time to get to know the city, particularly if you opt for somewhere with like-minded flatmates, and the flexibility to move if you find another corner that seems a bit more 'you'.
Ok but where do I start?
To begin with, basing a search from a tube line won't always deliver the best results – even if you think it might make life easier. Digital editor Lauren regrets choosing Highbury as her first port of call. "My boyfriend was in Brixton at the time so living near the Victoria line was in the interest of being able to see each other and it not take an age. But it was expensive, and too much for someone starting out in my field!"
Start by following the city's property news, such as London paper the Evening Standard's Homes & Property section – which puts a spotlight on those areas that nail the sweet spot between affordability and accessibility.
A 2017 study by estate agents Hamptons International found that the most popular place for first-time renters was Shepherd's Bush in West London, with nearly a quarter of homes in the area let to first-time renters.
Why? It marries a still-affordable area of London with a decent location – commuters, like Dom, who recently moved there, can jump on a Central Line train and be in Oxford Circus within 12 minutes – ideal for making most of the city's best shopping or for meeting friends in Soho. "We chose it for the transport links," she says. "It's so quick – and it's easy to get out of London on the nearby A4 too."
For Ella, who moved to London for her first job from Kent in 2013, choosing Stratford in East London was partially off the back of the area's Olympic publicity. "Post-Olympics, it was an area that was considered 'up-and-coming', and with lots of new-build developments. At the time it wasn't too pricey (although that's changed now!), and the transport links are good – I can get to my job in Central London within half an hour."
It's also worth seeking out local recommendations, or – if moving to London alone – try clubbing together with other newbies to get your head around your move. Helen, who moved to London to start interning in 2006, found her initial stay renting a room in the halls of residence of the University of Westminster was a great way to meet people who shared her situation. "I went on to live with one of those friends in my first London flat share – a temporary arrangement that involved living above a KFC opposite Earl's Court – before I moved into a traditional flat share in Ealing."
When financial analyst Serena moved to London to study in 2012 she used her university's database of other students who were looking for somewhere to live. "I got chatting to a guy called Nathan who'd found a nice flat in Hammersmith, and it seemed like a good area – I loved living there but it was a bit far out," she says.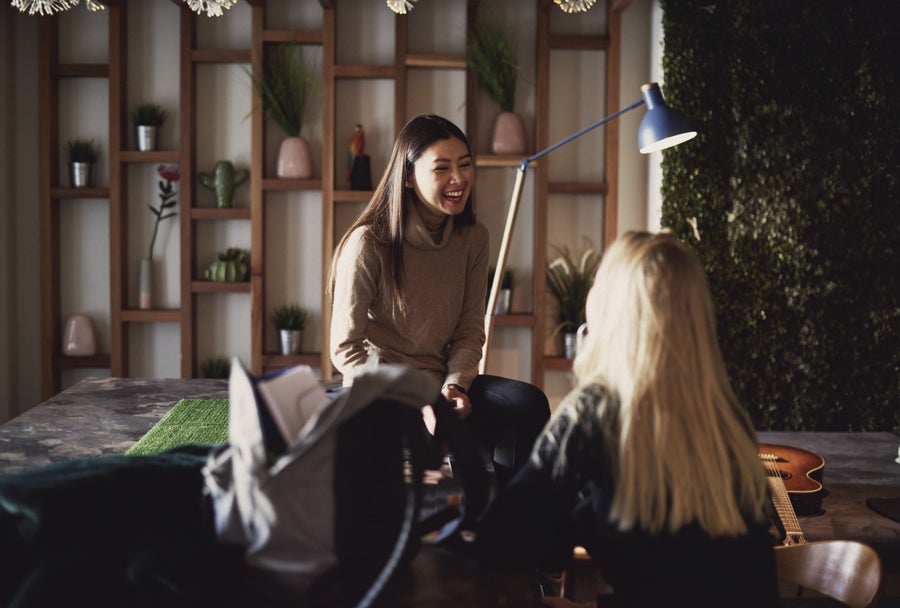 So what should first-time renters in London look out for now?
With housing prices ever on the rise, the future, it seems, might be a whole new way of living. Take The Collective, a company that is pioneering a new way to live with their co-living buildings, The Collective Old Oak, in North West London, and The Collective Canary Wharf, in East London. While both spaces tick the boxes for their relative affordability and transport links, they also bring in the benefits of meeting other people who are in a similar situation. The Collective has attracted attention for its novel approach to living in London, much-needed in the context of the capital's housing crisis.
Members opt into a co-living space where their home includes a personal space and shared spaces – consisting of kitchens, dining rooms, communal entertainment, a restaurant, a gym and site specific spaces (Old Oak has a roof terrace, while Canary Wharf has a skyline pool!). The prospect of a built-in social life is what attracted Adam to The Collective when he moved in in 2017. "It's the best of both worlds," he explains. "A place where I can make friends similar to roommates, but with the privacy of my own studio."
It's also streamlined. Here, one rent payment covers everything, including rent, utilities, bills, wifi, and a regular roster of events for members. The location also aligns with the arrival of Crossrail – a £1.3bn station is set to open locally in the next three years which will revolutionise local transport links to Heathrow and into London.
Book a tour at Old Oak or Canary Wharf or find out more online.
There's one thing for certain – living in the city is changing, and there are more options than ever.