New York, NY – October 24, 2019 – The Collective is pleased to announce the opening of The Collective Paper Factory, the co-living company's first space in the United States, located in the heart of Long Island City, Queens, adjacent to the Kaufman Arts District and Astoria. The 100-year-old building — once a paper goods manufactory and before that a radio factory — will house the global debut of the company's short-stay model. The 125-room location will offer a stay model ranging from one night to 29-day stays.
Following a deep operational history of place-making and smaller shared housing initiatives that started in 2010, today The Collective houses the world's largest co-living communities globally. Paper Factory is the third purposed-designed space in the co-living company's increasingly diverse international portfolio, and its first in the U.S. As The Collective's sole location for short stay only, the Long Island City outpost provides a unique opportunity for The Collective's growing global member base to experience co-living on a trial basis. New Yorkers will also be welcome to take advantage of the opportunity and become a short-term member of The Collective.
Unlike most of The Collective's projects, its entry into the U.S. market is marked by adaptive re-use, as opposed to a ground-up development, the company's dominant model. In 2021, The Collective Paper Factory will expand and introduce 100+ purpose-designed co-living units on top of the existing structure.
Moreover, The Collective will introduce a robust cultural program at Paper Factory, designed to educate and engage people in the rapidly evolving conversation about the future of co-living — with an intention to refine its longer-term ambitions for New York City in partnership with New Yorkers.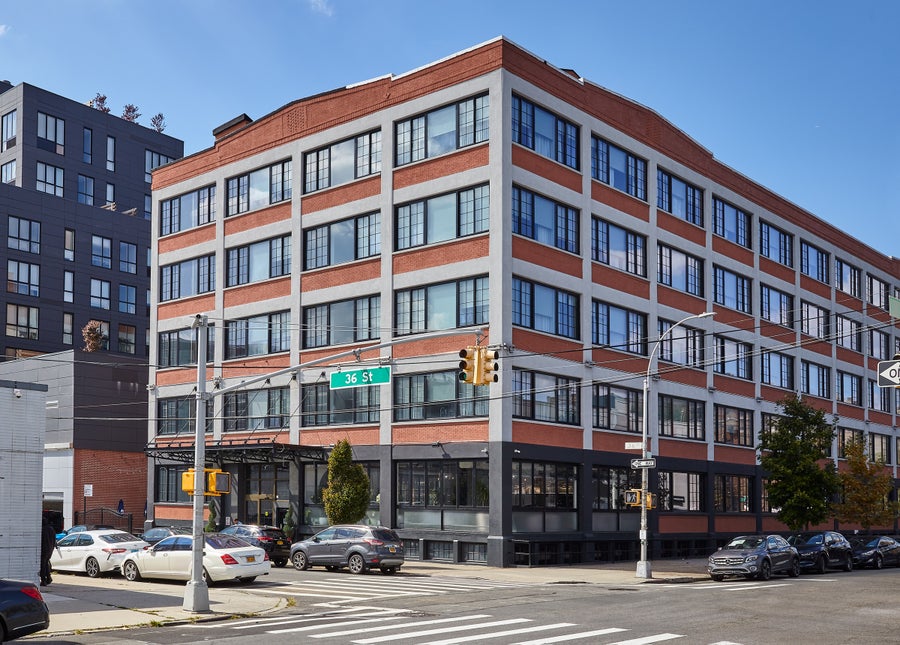 "During our first year in New York, our team has been inspired by the richly diverse community of Queens," says Founder and CEO Reza Merchant. "The Collective has been successful in pioneering the coliving sector because we create shared space that is led by culture, experience and local engagement. We love to join vibrant neighborhoods who are embarking on their own phase of change, where we can forge meaningful partnerships and really make a contribution. Long Island City is the perfect place to debut a flavor of our signature co-living approach." Merchant adds, "We feel connected to the hundreds of local businesses and creative minds we've met throughout our first year in the U.S. and look forward to continuing to grow for and with New York City."
The Collective Paper Factory's site has a rich history dating back to the early 1900s. Before it housed a paper mill and stationary company, it was home to the Pilot Radio Company which dissolved during WWII. The factory was later repurposed for Romo Paper Products, supplying paper to the booming newspaper industry of 1960s-70s New York. Industrial design and architecture details are evident in the Long Island City structure including intricate metal-work features that reflect the history of the surrounding neighborhood.
The Collective's international portfolio of co-living spaces — with over 8,000 units forthcoming in Brooklyn, Chicago, Miami, London, Dublin and cities yet to be announced in Germany — are rooted in communal space and experience, designed and activated to foster connection and combat the crisis of loneliness in cities across the globe. Continuing this thread in the U.S., the company's Paper Factory location houses a redesigned lobby with a bright, open-plan layout and multiple spaces for gathering, intended to evolve with the needs of its members.
Opening December 2019, another new addition will be ama, a restaurant inspired by different culinary traditions from around the world. Serving comfort food with global influences, ama is a name used across multiple cultures to signify "mother." The restaurant will be open for breakfast, lunch, dinner with brunch on the weekends.
The dining space retains most of the building's original industrial qualities, including a dramatic spiral staircase, while adding warmth and texture through use of greenery, rich textiles and color. The new restaurant also connects to The Courtyard, a seasonal outdoor space with a signature beverage program.
The Collective joins one of New York's most culturally distinct neighborhoods with the intention of aligning with the larger Queens community in an impactful and positive way. Paper Factory will incubate, experiment with and create dialogue around the future of urban living, through a robust lineup of public programming and partnerships with leading local individuals, institutions and organizations.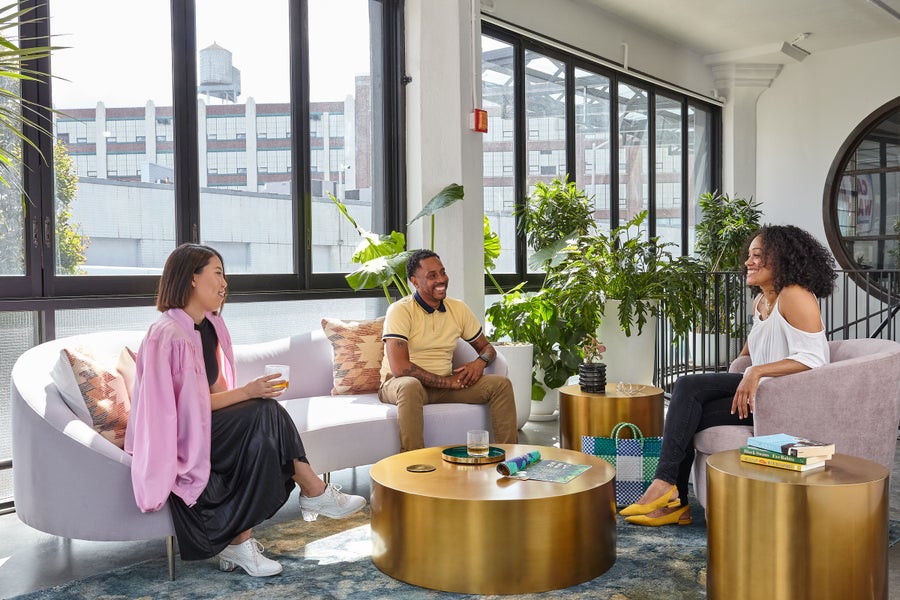 This November 15th, Paper Factory will host "Be More Together: A Collective Conference," a series that explores the future of shared spaces, resources and actions, forging a more deeply engaged partnership between The Collective and New Yorkers. The day will showcase local scholars, makers and creators via talks, activations, exhibitions, and performances, including a native exploration of the surrounding neighborhood and borough.
Next spring, Paper Factory will inaugurate its first local artist residency program. Open to makers living in the five boroughs of New York City, the program will offer two artists of varying disciplines accommodations, accessible space and resources to create work at The Collective Paper Factory, inspired by the never-ending stimuli to be found in Long Island City and Astoria.
The Collective will house commissioned artwork from Rafael Herrin-Ferri, Eric Rieger (Hot Tea), Charles Clary, and works by Robin Eisenberg, Tommy Rebel and others.
The Collective has ambitious international growth plans in the coming years, which include additional outposts across the United States, United Kingdom, and Germany, among others. To date, the company has raised nearly $1 billion to fund its growth, bringing to life its vision of making co-living an option for people all over the world. The Collective Paper Factory is the company's first acquisition in New York, to be followed by Bed-Stuy's 1215 Fulton Street and its forthcoming Brooklyn flagship at 555 Broadway, both opening in 2022. The Collective will also build at 2825 NW Second Ave in Miami's Wynwood Arts District and 633 S. LaSalle in Chicago's Loop. This Fall, The Collective also opens the largest co-living building in the world in London's Canary Wharf, to house 705 members.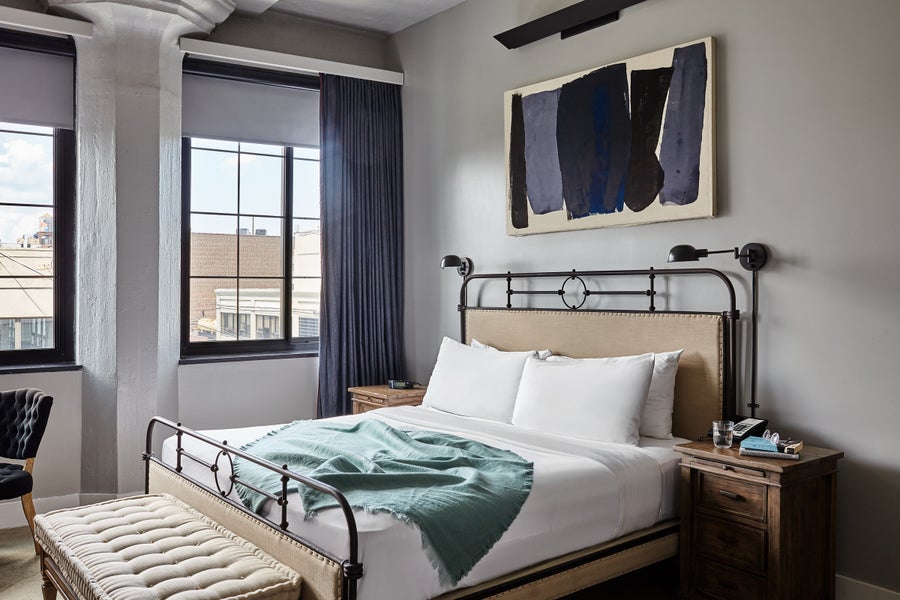 Paper Factory nightly rates start from $135, two week stays from $1,250 and 29-day stays from $2,300. As with The Collective's longer stay models, rates are all-inclusive of Wi-Fi, professional cleaning, linen change and utilities. Through a partnership with Brooklyn-based Blind Seed, members will have access to an order-in wellness concierge program, which will include yoga, Pilates, herbalism, and reiki among other offerings for the mind, body and soul. For membership information, please visit www.thecollective.com.
Project Credits
Design Architect: The Collective
Project Architect: Palette Architecture