Recently, our new Impact team were led backstage to the rooftops of The Collective Old Oak. The tour was led by Jon Forrester, our spritely Head of Hard Service Facilities Management, and with the intention of answering the question: just how sustainable are we?
And the answer is… pretty sustainable! In the UK, the built environment is responsible for "around 40% of the UK's total carbon footprint" (UKGBC, 2018). Much of this is from older structures, because 80% of our buildings are already built. This means that new builds like The Collective Old Oak can afford to be more progressive and thoughtful about how we optimise our inputs such as energy, materials, water and air, and our outputs of waste, GHG emissions, water and air. By doing this we can have a more positive impact on our members, their neighbours and the environment around them.
Here is a walk-through of everything we're doing at The Collective Old Oak to make the building as environmentally and economically efficient as possible.
The Plant Room
To kick things off, Jon took us to the heart (or maybe stomach) of our building: the plant room. It's not your usual greenhouse of succulents, but rather a highly sophisticated array of engineering that enables our building to breathe clean air, use the minimal amount of energy and offer safe drinking water. The standards expected by today's planning regulations are impressive, but the additional processes that The Collective team have put in place to make the building efficient are even more so.
The first win is that we are certified BREEAM 'Excellent', a sustainability assessment for buildings that mitigates our risk and assesses our performance in planning, design, construction and operation.
The second win is that we have combined heat and power that produces 250kw/hr and is a clever way of using 'wasted' energy to heat our buildings. A good way to describe this is through the analogy of a power station; the wasted heat energy comes out through massive chimneys as steam, which is careless considering that it could be reused as heat.
Because we reuse energy that would otherwise be wasted to heat our building, we are 80% more efficient with our energy consumption, and therefore we dig up less fossil fuels.
Also in this underground plant room, we found our water purifier, inside of which you'll find an ioniser coil designed to soften the water. London water is famously hard (we are in a chalk belt, hence why you often see white residue in kettles!) and it can seize up our joints as well as a building's plumbing. Making water more alkaline makes it softer and therefore healthier to drink. A fantastic third win for the plant room!
The Roof
On the roof, we've got two air handling unit exchangers that provide a clever way of exchanging stale hot air leaving the building for new, fresh air coming into it. This fresh (but dirty) air from the outside is filtered to remove the dirt, and then passes over the escaping hot air, thus reducing the energy needed to heat it. This process means the fresh air does need heating once inside, but these small interventions still make a difference to both our economical and environmental balance sheets.
The two filters that the air passes through are changed every 6 to 12 months. By comparison, at our head in central London, the filters are changed every two months. Ick! It's a stark reminder that central London has double the level of pollutants recommended by the World Health Organisation.
Under the air exchangers you'll see plants – a 'Brown Roof'. Across our roofs we have patches of greenery that retain 82% of rainfall, compared to the 27% retained by gravel. These Brown Roofs retain heat and reduce air temperatures from 65°C of a usual flat roof to 35°C.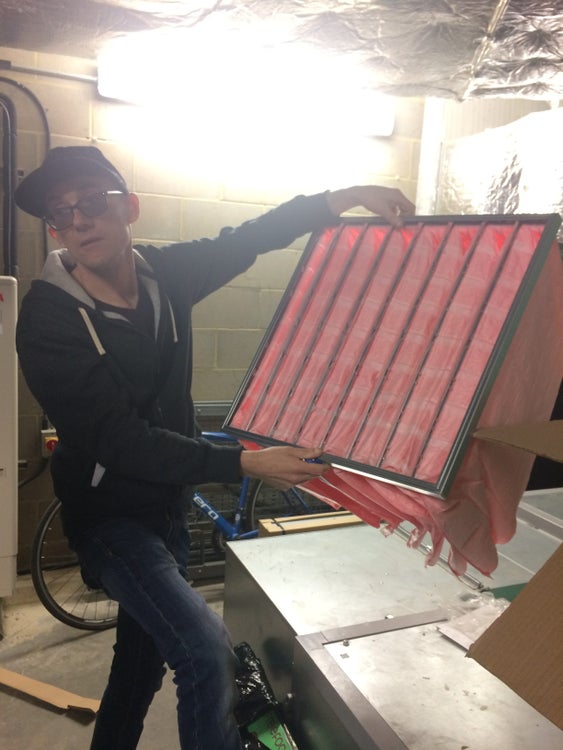 Finally, our roof is home to 52 solar panels which is also a BREEAM requirement. Though perhaps not the greatest generator for renewable energy in a rather grey London, it does provide 25kw per year to our energy supply. We asked about the possibility of using wind turbines because we know it can get very windy up at The Collective Old Oak, but the roof is at capacity for what it can hold, and turbines can also be very noisy which could become very irritating for our members. Check out a what happened at the Strata building in Elephant & Castle.
The Interior
Back inside, we learnt more about the materials in our rooms. For example, the floors are made with recycled plastic, Amtico Spacia ECO A+, and the kitchen cupboards are all made with Forest Stewardship Council certified sustainably sourced timber.
Next Steps
Now, we have a lot of reading to do.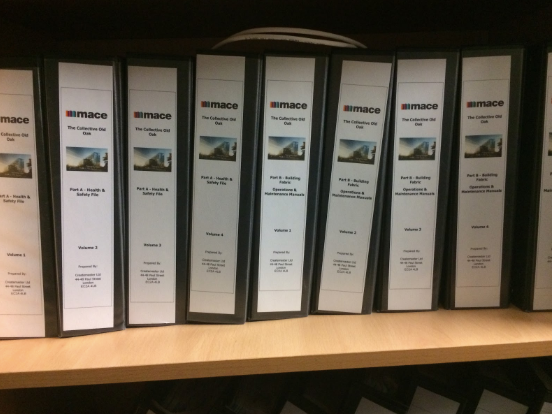 We found that each floor has its own electric meter, so we will be encouraging a little friendly competition between the floors to see which has the most efficient energy rating.
The approach thus far has been to be as efficient and careful with our use of both material and energy-based resources. The next step is to encourage us all – our members, team members and community – to adopt a more sustainable approach to living. Watch this space!