Advances in technology have made it easier for people to stay in touch and work anywhere in the world, but behind all of this digital connection is a global loneliness epidemic. Add to that a growing gig economy and a generation where one-third may never own a home, and you get the rise of co-living spaces in the world's most buzzing cities. Welcome to community living for the 21st century.
So what exactly is co-living? It's a new living experience that combines private rooms with shared common areas like kitchens, cinemas, and outdoor terraces. The aim is to make big cities feel a little less… big. Keen to find out more, I asked a few people in the know how best to evaluate whether co-living will suit you. Here are 7 questions to ask yourself and others before trying co-living.
1. Am I willing to be an active member of the community?
Social connection is a big factor in many people's decision to try co-living. There's an opportunity to meet all different kinds of people, and it's important to be willing to engage with people in your building so that the community can be the best it can be.
Louis De Keyser, a Belgian entrepreneur, spent several months co-living in New York City. He said there were a couple of residents he rarely saw, and suggests that if you're not into the idea of taking part in the community you might "miss out on such a big opportunity to meet all these people with similar dreams. With co-living, you get out what you put in. This kind of living works best when people are willing to join in and share experiences."
With co-living, you get out what you put in. This kind of living works best when people are willing to join in and share experiences.
Ask yourself whether you're up for that before committing.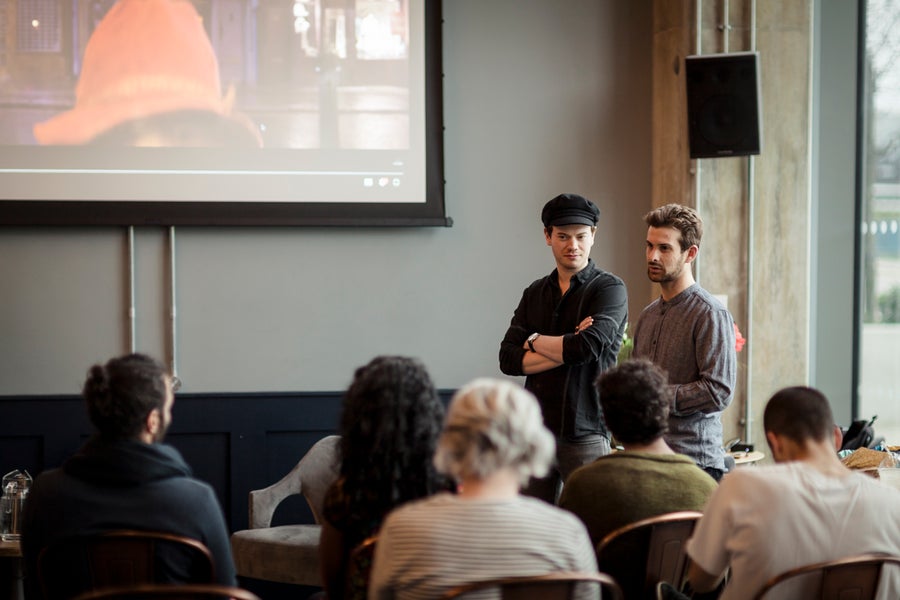 2. How do you encourage community and a healthy work-life balance?
One of the criticisms of co-living is that it can blur the lines between work and home. In the gig economy, there is already pressure to work towards burn-out – living and working with other freelancers and entrepreneurs can intensify the pressure to work harder, longer, or faster. A great co-living space will encourage down time and a healthy work-life balance.
In terms of community, simply having people around doesn't guarantee meaningful connection. That's why everyone I interviewed recommended asking about the events that are arranged to encourage bonding between residents.
"In Marrakech, there was a time to work in the co-working space 'The Spot' in Gueliz, and a time to play with the 'Flexpat' crew," says Inma Gregorio, the travel blogger behind A World to Travel, that recently wrote an article on her Morocco co-living experience. "We got to share lots of meals, a workshop on blogging, and even a trip to the desert!"
Also pay attention to the kind of events and who puts them on. At The Collective Old Oak in London, there's a regular programme run by The Collective team that features talks and workshops, art classes, film screenings, gigs, wellbeing sessions and more. And of course there are many events run by the community, from yoga to regular improvisation classes and weekend fitness. Member Adam Saez says that he saw this as a great opportunity to get involved.
"At The Collective there are so many events run by the community, for the community. So I decided to start running bootcamp classes Saturday mornings for those needing motivation to get out of bed and be active first thing on the weekend."
3. How does the space balance privacy and security?
Although being social is integral to the co-living atmosphere, everyone needs time to themselves. Ask about which areas are communal spaces, like the kitchen and dining rooms, and which ones you'll have to yourself.
Be sure to ask about safety – what the neighbourhood is like and the security measures they use to keep residents and their belongings safe.
For example, cameras in communal areas and front door security guards add a layer of protection. "When you opt for a co-living space, you can be sure about 24-hour security, CCTV surveillance, access card entry, background verification and screening process of the staff as well as residents," writes Viral Chhajer for YourStory.
"[Co-living] is a lot more organised and transparent than PG [paying guest] accommodations and renting options, making it a safer choice for millennials in a new city."
But as Louis says, "It's good to know about that stuff beforehand," so you're not taken by surprise.
4. What is my goal with co-living?
A co-living space can offer various business and interpersonal opportunities, but not all will be important to you. Consider what you want out of your co-living experience, so you can evaluate whether it will meet your expectations.
Your purpose for choosing co-living will change how you approach your search and, ultimately, which co-living space you choose.
5. Who are the other residents?
According to Haz Memon of Swiss Escape, their co-living space in Switzerland tends to attract people who are interested in hiking and skiing. Shared interests bring residents together, he says, but most people don't expect to find business partners, too. "We've had instances where people got together and right after the co-living experience, they started a business together. And that wouldn't have happened if they weren't able to spend as much time together."
A major factor in whether you enjoy co-living comes down to the other people. The arrangement should align with your interests and goals. If your goal is professional, be sure you'll be able to work and play with people in similar or complementary industries. If you're interested in socialising and meeting new people, find out whether people stay very long and what the community is like.
For Adam Saez, living at The Collective made sense from a personal and professional perspective alike. "My goal with co-living is being able to network enough to have all my resources at my fingertips. This way my friends also become my colleagues."
6. What am I comfortable with sharing?
Most of the co-livers I spoke with said that co-living is easier to adapt to if you've lived in dorms, hostels, or shared houses in the past.
"Everything is going on outside and then you come home and there are 10, 15 people there. It can be a lot to be around all these people all the time," says Louis. "I'm sure as you can imagine when you're staying with that many young people in one house, there's a lot of drama. That can be a lot sometimes."
Co-living can mean sharing everything from common rooms, like kitchens and lounges, to bedrooms. Before choosing a co-living space, consider how you feel about this.
7. Did I feel at ease?
A co-living space is going to be your home and the people, effectively, your family. After you've visited, think about whether you felt comfortable asking questions and whether you received clear and honest answers about the things that will affect your everyday life.
Moira Hornik, who leads the community team at The Collective's co-living space in West London, says having a team on hand to support you is important. "Some people move in to The Collective Old Oak and fit right it but for most of us it's pretty daunting to walk in to a building with 550 people. We're here to be the first welcoming face, the first guiding hand, the first listening ear. It's a big place and there's so much to do and we want everyone to be able to jump right in."
We're here to be the first welcoming face, the first guiding hand, the first listening ear. It's a big place and there's so much to do and we want everyone to be able to jump right in.
The opportunity to live in a new place while interacting with like-minded entrepreneurs and experiencing the local culture is a priceless experience. Make the most of the opportunity by ensuring that you're a good fit for co-living and that the place is the right fit for you.
Curious to try co-living? Come check out The Collective in London.