Cold pressed, fresh pressed or from concentrate, not all juices are created equal. A quick look on the internet and it's easy to get lost in recipes, wild juicing trends and confusing health claims. We caught up with Florence Cherruault, founder of The Pickle House to get to the bottom of it all. Whether you're drinking a pint of celery juice every morning or just fancy a pick me up, we've got all sorts of tasty inspo to get you trying something new.
Florence, tell us a little bit about your company and what brought you to London.
I've lived in London my whole life and absolutely love it. I started making our Original Pickle Juice from my flat in Hackney but as The Pickle House grew bigger I moved the production to my grandparents farm in Suffolk.
The Pickle Juice is great as an addition to cocktails to add a really nice umami flavour but it's also great in juices and smoothies thanks to its many health benefits. I then went on to launch our Spiced Tomato Mix which is great for a Bloody Mary but equally good on its own. I love that both products are so versatile. You can drink them when you're trying to be healthy or get boozed up over brunch.
As a Londoner working in food and drink, you must have some good recommendations. What are your favourite places to go for a cocktail, comfort food, brunch?
A lot are in East London as I like to be able to walk to places. For cocktails I'd say Viva Dalston, it's a really cute little Mexican restaurant. They do delicious mezcal margaritas that you can sip on whilst munching on their ceviche. My favourite brunch spot is Brunswick East in Dalston (again). The food is amazing and so different to the usual brunch menu of eggs and avocado.They also have a great outdoor area for the summer.
For comfort food, this is a bit embarrassing but my absolute favourite is Nandos. The next one would be Red Sun on New Quebec Street in Marble Arch. The Chinese food is the best and reminds me of when I lived in Hong Kong. Ask for the "other menu" which has this really delicious spicy beef noodle soup.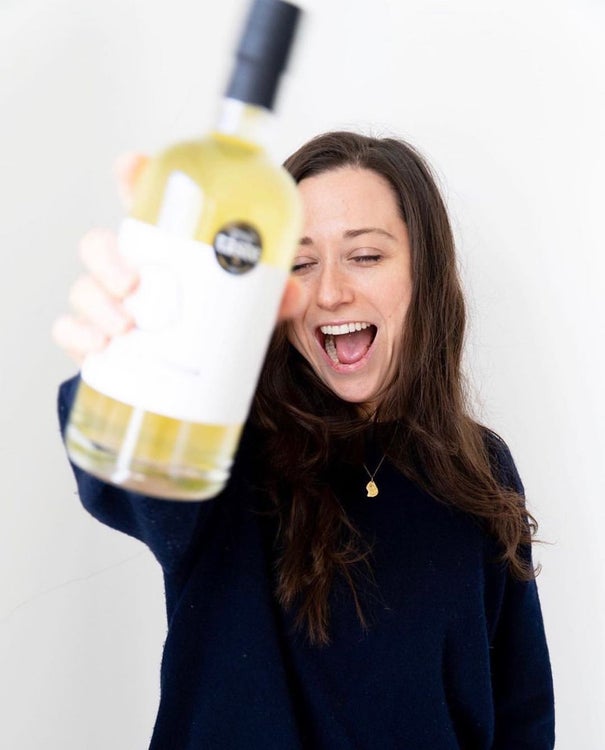 We've heard a lot about pickle juice being good for you. Can you tell us about this?
Yes, there's so much talk about it at the moment. Thanks to the salt and vinegar, pickle juice is filled with electrolytes which can help rehydrate your body with nutrients. It's also been said to help with muscle cramps. A lot of people in sporting professions drink pickle juice during big games to help with this. We also put turmeric in ours which is a great anti-inflammatory, fennel which aids digestion and celery which is also good for digestion and full of antioxidants.
What sort of ingredients should we be putting in our juices to reboot the metabolism or encourage a healthy gut?
I have four that I tend to use: fennel, celery, cayenne pepper and ginger. Then for a healthy gut I like to include things like yoghurt, kefir and bananas. Oh and prunes of course!
Have you ever had any juicing disasters? Anything we should really avoid?
Don't add garlic! It is really good for you but keep it out of your juices. Once when I had a cold I tried blending all the things that are meant to help like ginger, lemon, honey, garlic. It was gross.
Many of us are trying to make more eco-friendly choices this year. Do you have any tips for avoiding food waste?
Try not to over buy food and don't throw away your fruit and vegetables just because it says they're out of date on the packet. I know a lot of people who do this!
If you have something that's going off make sure you use it for your next meal. Making a stir fry is a great way to use up any random bits you have left in your fridge.
Also if I can't finish my meal, even if it's the smallest amount like a mouthful I never throw it away. Put it in the fridge and keep it for a snack the next day. When I was little we used to have "fridge mould Sundays". Sounds disgusting but basically my mum would use up any leftovers from the week to make a random dinner. It was great and I still do it now.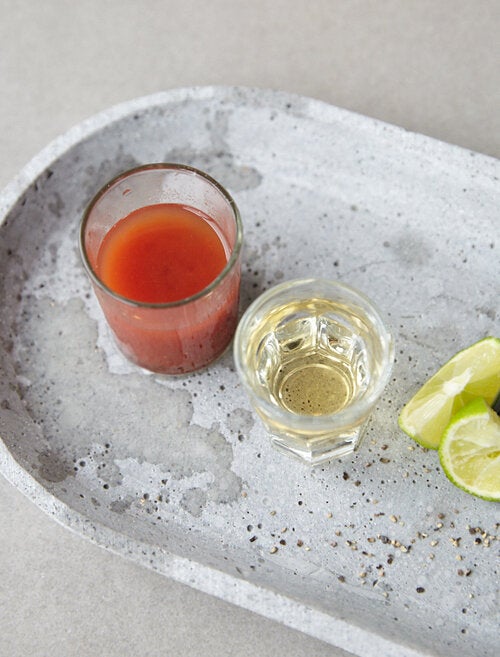 Finally, could you leave us with some recipe inspiration?
Of course! These are the recipes we did at The Collective Workshop. You'll need a blender, peeler, sieve, chopping board and knife. You can use pickle juice from a jar of pickles or try ours with the code PICKLED10 for 10% off at the checkout. www.thepicklehouse.com
Pickled Mango + Black Pepper Juice
This is for those who prefer a slightly sweeter dose of health and when a shot of pickle juice might be a little too much first thing in the morning.
Ingredients:
25ml Pickle Juice,
1 small mango peeled and cut into chunks,
2 carrots peeled,
1/4 tsp turmeric,
3 pinches of coarse black pepper.
100ml water
Peel and chop the mango and carrots.
Place in the blender with the Turmeric, Pickle Juice, 2 pinches of black pepper and the water. Blend until really smooth. Depending on how big your mango is you might have to add a little more water to help loosen the mix up.
Pour over a glass filled with ice. This will make more than once glass so you can either put the rest in the fridge for the next day or put it in the freezer. You blend it again from frozen to make a really nice, healthy slushie for dessert.
Morning Boost Shot
Ingredients:
25ml Pickle Juice,
1 Braeburn Apple,
1 thumb size piece of Ginger
1/4 tsp Cayenne Pepper
50ml water
Peel and chop the apple and ginger.
Place in the blender then add Pickle Juice, cayenne pepper and water. Blend until really smooth.
Place your sieve over a bowl or jug and sieve the mix through so that the liquid is thin and the pulp is left in the sieve. Pour into a shot glass and knock it back as a morning pick me up.
Beetroot, Apple and Pickle
Ingredients:
1 Beetroot
1 Braeburn Apple
50ml Pickle Juice
50ml Water
Peel and chop the beetroot and apple.
Place in the blender with the pickle juice and water. Blend until really smooth. You can drink this one as it is or use your sieve again to make it lighter.