From fashion to food, our generation is increasingly keen on things that come hand in hand with a personalised experience. Enter Elizabeth Joseph, a London-based jeweller who teaches her workshop guests how to create custom laser cut pieces, from brooches to "punk earrings". Tonight at The Collective Old Oak she'll be walking us through the art of charm bracelet making, and ahead of her visit she shared an insight into her craft.
How did you originally get into making jewellery?
A very early memory is on my way to a good old jumble sale when I was around 10 years old. I was daydreaming about finding a big bunch of chains, bits of broken jewellery, bringing it home and sitting down and unravelling it all. I liked (and still do) the idea of creating something new and unique out of things that have been discarded. I do have some precious pieces of jewellery – a pair of silver bangles sent from Barbados by my Grandmother when I was around seven years old, and my first pair of earrings when I had my ears pierced.
I think jewellery is about the meaning you give to it rather than what it cost or where you bought it.
Around 3 years ago I decided I needed to learn a new skill. So I started laser cutting and designing statement accessories. I really love it – the acrylic sheet can be pricey but with jewellery a little goes a long way. I started running jewellery making workshops – I prefer doing workshops than selling finished items. It's a group activity and I have to de-construct each item and put it back together again in 'workshop' form. I bring all the pieces ready laser cut, show guests how to make their item and they can also tweak the design or colours. People are looking for creative experiences and want to develop their creativity. Personalisation is really popular and my workshops mean that every guest leaves with a unique item. They make new friends, learn new skills and we've even had a group hug at the end!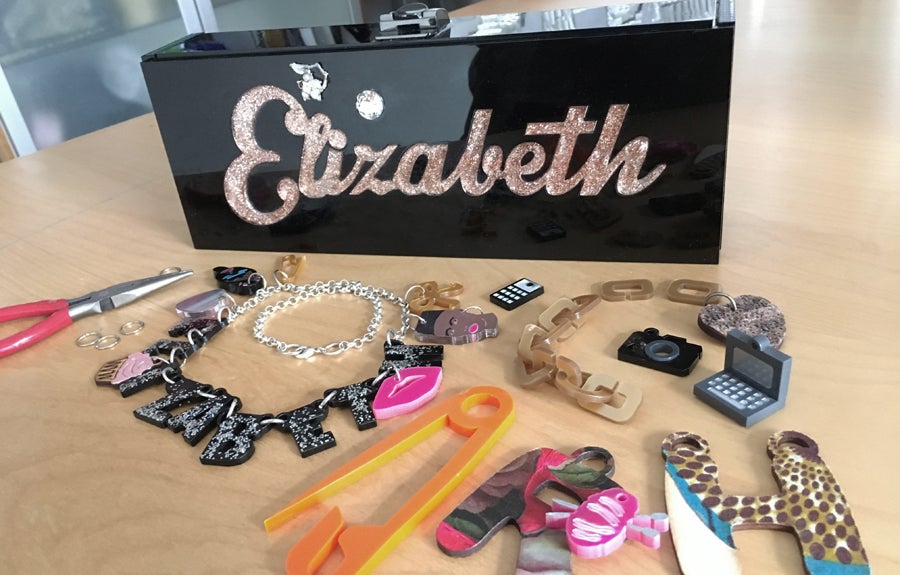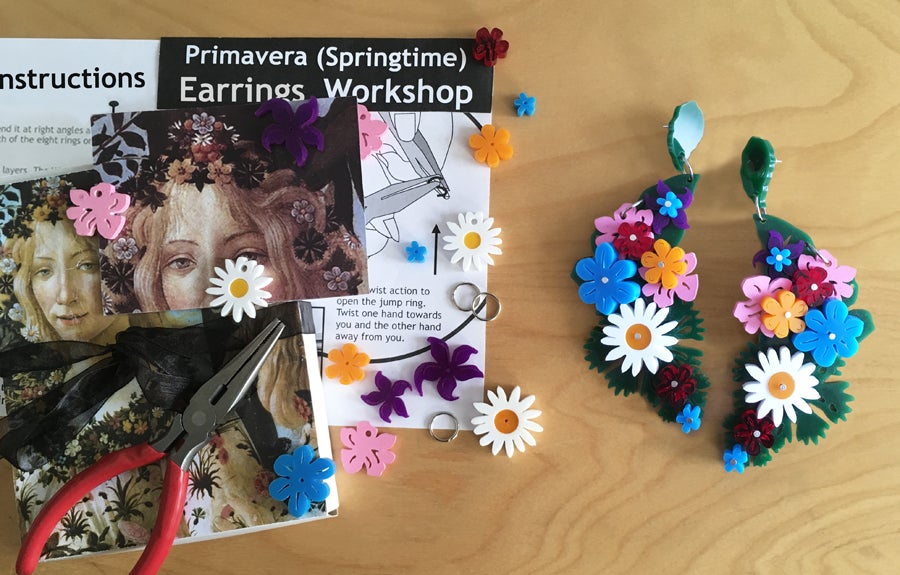 Have you always been creative, as a kid for example?
Yes one of my earliest memories is going straight to the paint pots and paint as soon as I arrived to nursery. Art and English were my favourite subjects at school and sixth form college and I used to spend my lunch breaks in the art room. To stave off boredom as a teenager I would make my own clothes, draw and make collages in scrap books and I painted huge murals all over my bedroom walls.
Can you tell us about your favourite charms?
That's a difficult one… I really like my laser cut safety pin. It's just a nice shape in 2D and it's a bit punk. I've laser cut a large one in bright orange for my 'Punk Earrings' Workshop.
Your take on charm bracelets is quite unique, what is it about laser that you feel works well?
I love the paradox of the simplicity of laser cutting while at the same time, really intricate items can be made. I have worked as a graphic designer so I could already use Illustrator. You can really let your imagination go – laser cutting for me takes out most of the hard 'hand work' from making statement jewellery and accessories. I love experimenting with embellishing the surface of the acrylic with beads, printed fabric, resin dye etc. Turning the 2D sheet of acrylic into a 3D object is so satisfying.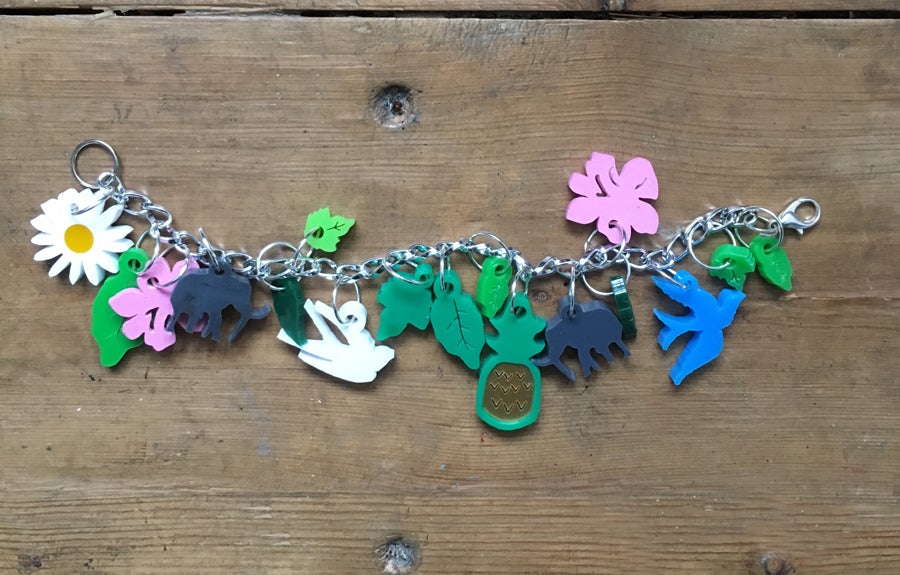 In five words, what can we expect with your workshop at The Collective Old Oak tonight?
Fun, creativity, learning, mindfulness, bracelets.
What is next for you and your business?
I'm developing a product to be sold online and on the high street, so I'm looking for a business partner with the necessary experience to help me through the process!
Find out more about Elizabeth at her website.