Inspired by the beauty of juxtaposing materials, Adele Brydges crafts evocative tools and objects that promote self-connection and sexual wellbeing. The designer, who studied ceramics at Central Saint Martins, creates full collections and runs workshops (aptly titled 'Decorate a Dildo') so that others can learn her craft. This month she's bringing the event to The Collective Old Oak. To celebrate, we asked Adele to play 'Caption that Image' with posts from her sexy Instagram. Here, she shares a peek into her world.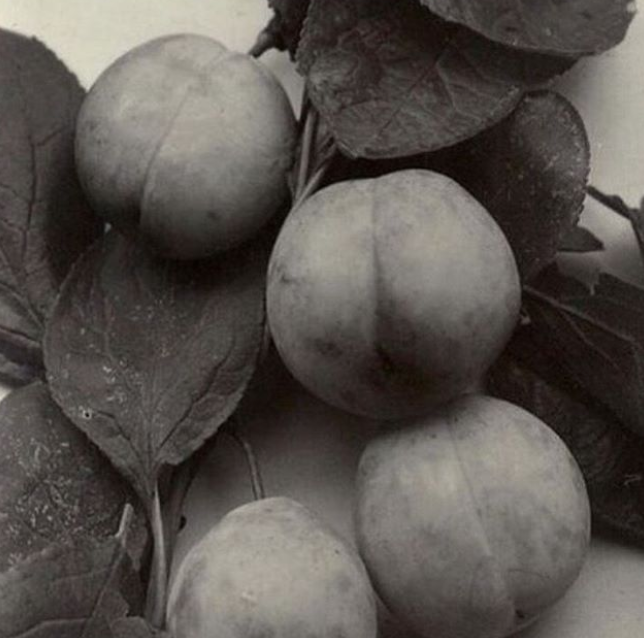 "These plums are actually a repost from two sisters Faye and Erica, whose approach to art and design I very much admire," says Adele. "They blur the boundaries and celebrate form and material in a subtle but playful way.
The ripe sensuality of fruit captures my imagination in this image. I appreciate colour but I feel you notice so much more about an object when it is captured or presented in monochrome. It's like mindfulness in some respects – once you drown out all the noise and distractions, you can focus on the form, textures and really appreciate the object as a sculptural, tactile form."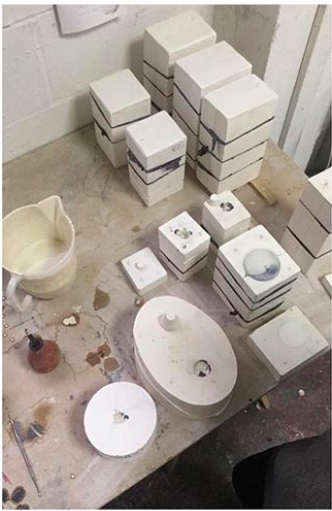 "This is a bird's eye view of my slip casting bench mid-production," Adele says. "I'd just poured liquid porcelain slip into my plaster moulds and I'm waiting for them to cast the forms on the inside of the moulds.
I really enjoy the making process. It's like a form of meditation for me – the only time my mind is completely focused on one task. I took this image because I enjoy the sculptural table-scape that the process can create."
"This is a line drawing of a female nude, by Egon Schiele.
The simplicity of this drawing is pure joy for me. It's sensual, it's feminine, it's honest. There is a slight awkwardness to Schiele's work which makes it very real."
"These were the very first porcelain colour test experiments I created when starting to work on concepts for the Marlene collection, a collection of gender fluid marbled porcelain sensual tools.
I am not the most patient person – I usually have the attention span of a flea – but somehow, ceramics managed to seduce me. It's pure alchemy; the blending of art, craft and science, the method, process and differed gratification. As with pleasure, it's about the journey, not just the destination."
"I am so frustrated by social media's censorship and sexualisation and demonisation of women and their bodies.
It's infuriating having to censor works of art because they display a female nipple, but I have to play the game otherwise I'll be penalised. I try to find playful ways to make my point when I can without becoming a bore. The buds in the image reminded me of breasts and nipples so I posted this with the caption #freethenipple."
"Erin's work focuses on women and largely provocative women's issues," says Adele. "I enjoy how she uses her medium (traditionally a female craft) to explore what it means to be a woman in this world. It's familiar and accessible yet powerful.
It's a laborious process; she weaves by hand from yarns that she had hand-dyed and I can relate to this to a certain extent. Ceramics is a slow, intensive process with sometimes unpredictable outcomes; it's so demanding of patience, planning and attention to detail and is as rewarding as it is exasperating."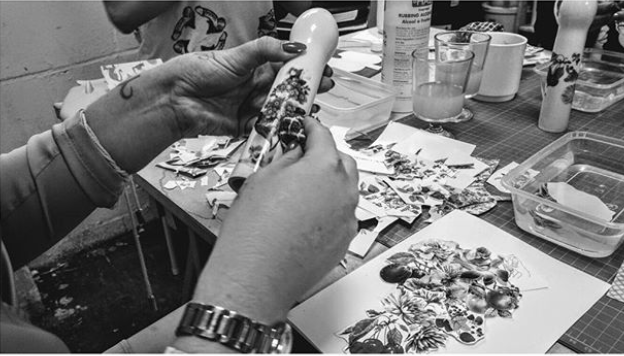 "I've run a number of these workshops now and each one is fun and rewarding. People get so consumed by the creative process that they forget that they're decorating a sexual object.
Conversations amble from the intimate, to the playful, emotional, insightful and uplifting; everyone who attends has a different story and fresh perspective. It's humbling to share the afternoon with inspiring women creating together. One of my past participants said that it was like therapy and guess it is for all of us in some ways. Every single woman leaves connecting with each other and staying in touch after the session which is such a great feeling."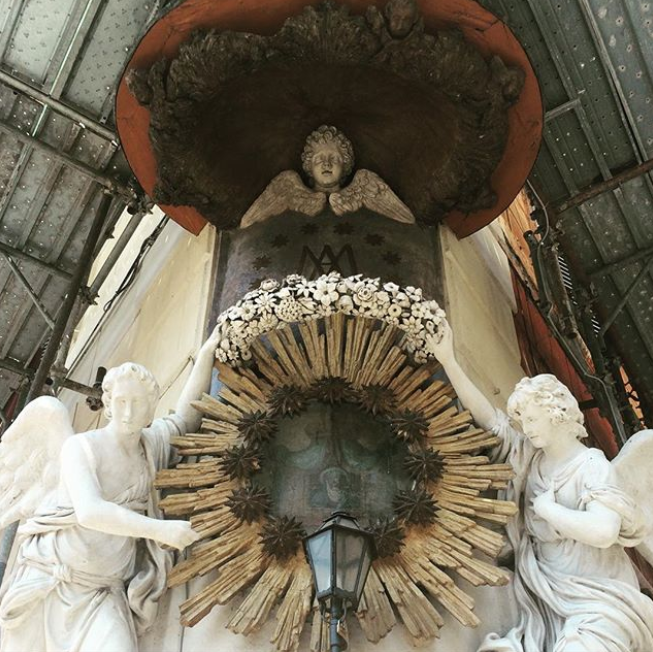 "This image is of a religious veneration of Our Lady, mother of the big JC. I took it on a trip to Italy back in 2015. I was wandering down some side streets in Rome and it was on the corner of a very sedate block of old apartments.
I'm the kind of person who likes to slip off the beaten track and slide into hidden corners of cities, discovering hidden details. The icon of Mary is actually tiny and quite subdued, but surrounded by so much pomp and decoration, and I loved this about it. I was brought up a Catholic and even though my views are very different as an adult, I still can't suppress the sentimental sense of awe in my inner child when I come across things like this."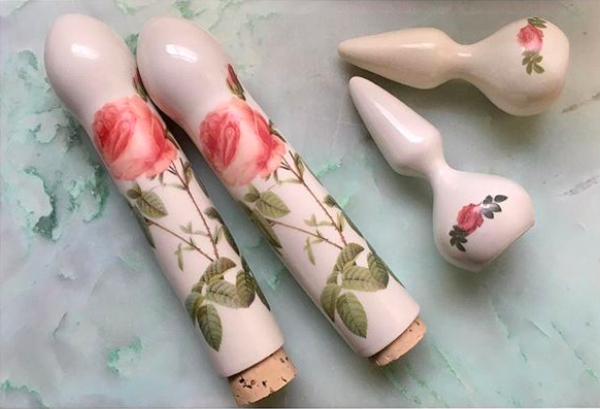 "These were the very first designs I created for Coco de Mer back in 2007. I was a recent graduate from Central Saint Martins (now University of the Arts London) and this felt like such an achievement as I'd managed to marry several passions and interests: ceramic design, playful subversion and female sensuality.
I wanted to create sexual tools that celebrated female sexuality and sensuality and encourage discussions on self pleasure, beauty and intimacy. Not many people spot it at first but there is a clitoris hidden in the rose petals…"
'Decorate a Dildo with Adele Brydges' runs as part of our member events programme on 17th August at The Collective Old Oak