Hot cross buns are a classic Easter treat, made iconic by the Christian cross that's drawn across the top to finish off this sweet, spicy, fruity bun. Hot cross buffins combine these flavours with the light, spongy goodness of a muffin. Unlike a standard hot cross bun, they don't need proving or a stand mixer to make, so they're perfect for the less experienced baker, or anyone who's in a hurry. Once you've gathered all your equipment and ingredients, the whole recipe will only take an hour or so.
This delicious and remarkably easy recipe is one of many inventive edibles by The Dinner Ladies, our latest events partner. Savouring tastes from a host of different regions and countries, their goal is to pack British ingredients with contemporary flavours and spices inspired by their travels.
Ingredients (for 12-15 buffins)
50g dried cranberries
68g dried apricots
50g currants
50g mixed peel
375g self-raising flour
½ tsp bicarbonate of soda
2 tsp ground cinnamon
½ tsp ground cardamom
100ml sunflower oil
250ml buttermilk
200g peanut butter crunchy or smooth
2 eggs
200g golden caster sugar + 2 tbsp for glaze
80g icing sugar
1 tsp lemon juice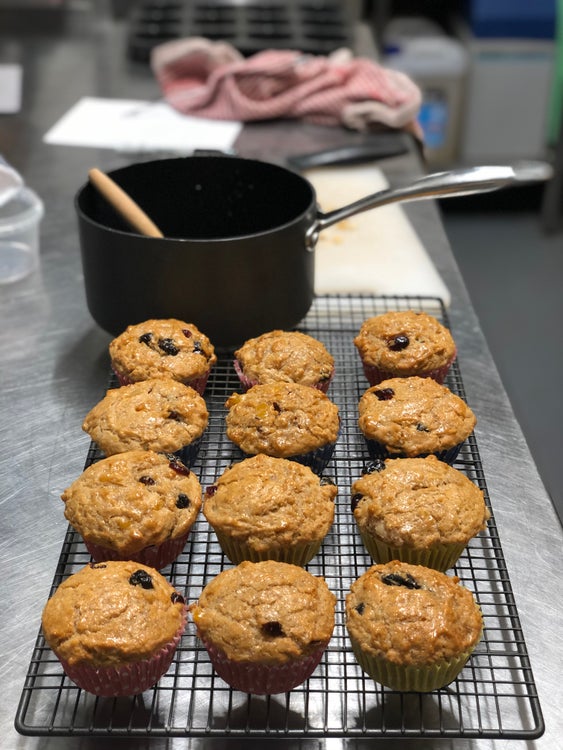 You'll also need
12 hole muffin tin
12 muffin cases
Piping bag
Medium bowl
Teaspoons and tablespoons
Large mixing bowl
Spatula
Hand whisk
Medium mixing bowl
Skewer
Cooling rack
Small saucepan
Pastry brush
Sharp knife
Chopping board
Small bowl
Method
Preheat the oven to 200°C/180C fan. Grease a 12-hole muffin tray and line with paper cases.
Soak dried fruit in just enough boiling water to cover for 10 minutes. Drain well, then pat dry with a paper towel.
In a large bowl mix the flour, bicarbonate of soda and spices into a large bowl.
In a separate bowl, whisk together the oil, peanut butter, buttermilk, eggs and sugar until combined. Fold this mixture into the dry ingredients and stir to combine. Gently stir in the fruit.
Divide the mixture among muffin cases, then bake for 12-15 minutes until lightly browned and a skewer inserted into the centre comes out clean. Place on a wire rack to cool.
Meanwhile, place the extra 2 tablespoons sugar in a pan with 2 tablespoons water and simmer over low heat, stirring, until sugar dissolves. Brush the glaze over the muffins when they come out of the oven.
Sift icing sugar into a bowl. Add lemon juice and just enough hot water to make a thick, pipeable icing. Use a piping bag or drizzle from a spoon to draw a cross on each muffin.
Allow to cool then enjoy!
Curious about living somewhere with an action packed events programme? The Collective builds one of a kind co-living spaces to live or stay. Enjoy a private studio or ensuite, with co-working, pool, gym and spa and connect with great people at events like yoga, coding and cocktail making.
For true peace of mind, everything is included in one easy bill. That's all the big stuff, like spaces, events, gym membership and the little things, like maintenance, wifi and cleaning too. We sort the boring stuff so you've got time for what really matters. See our rooms at The Collective.