In her work for Artsy, Gemma Rolls-Bentley collaborates with galleries, fairs, institutions and auction houses to provide a tech platform for artists to get seen. The role gives her a unique perspective on the arts industry, and an opportunity to shine a light on creatives from diverse range of communities, spaces and cities. This theme also runs through her latest curatorial project, Queertopia, a collection of short films exploring queer communities and their spaces – both real and mythological.
Following its screening at Somerset House, the project travelled to The Collective Old Oak's cinema for a special screening in partnership with online art platform DAATA Editions. Following the event, we caught some time with Gemma to talk art, diversity, and moon-gazing.
Tempe: Gemma, you are a curator – can you describe to us what this means for your day to day?
Gemma: Curating is something that I'm passionate about and I tend to do one or two curatorial projects a year alongside my role at Artsy, the world's largest online art platform, where I lead the Private Sales business. I've curated for the last 12 years and I continue to do it because it keeps me close to the art and artists that inspire me.
You work for Artsy, would you say it's disrupting the arts sector? How?
Instead of disrupting the arts sector, Artsy partners with galleries, fairs, institutions and auction houses to strengthen, improve and expand the art world's existing systems. Artsy is growing the art market by increasing access to art through technology.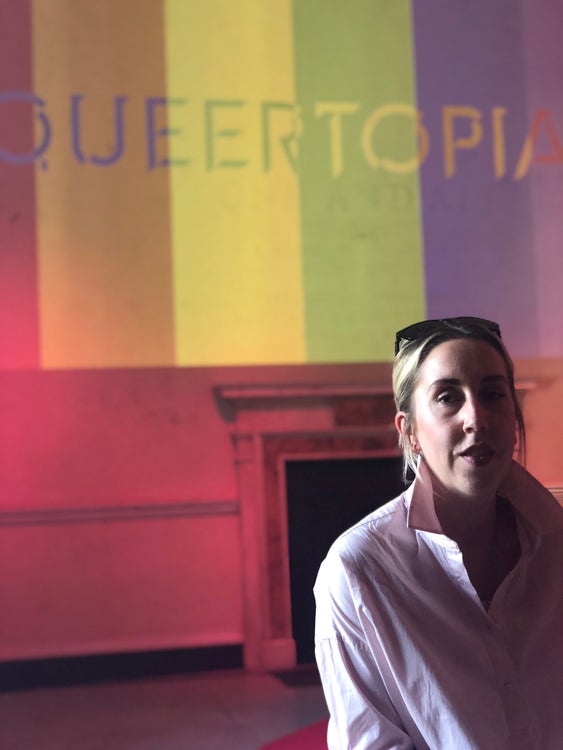 Your Instagram bio reads 'curator and champion of queer art and female empowerment'. Would you say the art world needs more champions?
I think the world needs more champions. I believe that those in a position of power and influence have a responsibility to speak up about the inequalities that exist in the world and that we should all be encouraged to better understand the challenges being faced by people who are different to us, which usually takes work.
What is diversity to you, in 2018?
We live in a diverse world but that's not reflected in all communities, spaces and cities. Openness alone is not enough to increase diversity in these places, we need to work hard to counteract the unconscious bias that exists in us all.
A report on social mobility in the cultural industries earlier this year described the cultural sector in the UK as 'socially closed'. What do you think?
At the beginning of this year I chaired a conversation between National Portrait Gallery Director Nicholas Cullinan, artist Isaac Julien and Curator Charlotte Keenan McDonald. We discussed queerness and how it intersects with race, gender and class and we came to the conclusion that class is the single biggest issue in the arts. There seems to be a more eloquent dialogue around the other issues that are apparent in the arts but we need to develop the conversation around class in order to make the arts more 'socially open'.
What's the idea behind the project Queertopia? What sparked it?
In 2017 we celebrated the 50th anniversary of the partial decriminalisation of male homosexuality in England and Wales and in 2019 the US will mark 50 years of Stonewall and Pride. These landmark moments provide an opportunity to reflect on the progress that's been made in these countries as well as the challenges that still face the LGBTQ+ community at home and around the world. There are many artists whose practice explores queer history, the spaces that our ancestors inhabited and the legacy that they've left. The work of these artists lays important groundwork for building future queer spaces and communities. Queertopia brings together films by eight brilliant artists that are carefully considering these themes in their work.
Watch Queertopia curated by Gemma Rolls-Bentley - A Daata Editions Trailer
Do you have any strategies or rituals for empowering yourself, as a woman and a curator in the arts?
Every night I drink a camomile tea and spray lavender oil on my pillow; a good night's sleep helps me to be the best version of myself. I also try to look at the moon as much as possible, to give thanks and to ask that I might be a helpful and positive force in the world.
What got you out of bed this morning?
My wife – she brought me a cup of tea! But seriously, my wife, I wake up everyday excited about the life that we're building together.
Who's your go-to wing woman or wing crew?
I'm lucky enough to be part of a coven along with 12 inspirational women who support me in every aspect of my life, professional, personal and spiritual.