Dip, dye, bloom. This month, we're buzzing to host a flower bundle dyeing workshop at The Collective with natural dye and print studio, Botanical Inks. Creative director Babs Behan shares everything there is to know about natural inks – to put it simply, they're to dye for.
What is botanical ink dyeing?
Natural dyeing is a traditional dyeing technique using plants, minerals and insects to extract colour and apply it to natural fibres, such as cloth, paper, wood, shell, feathers and bones.
At Botanical Inks, we prioritise using organically grown plants and source as locally as possible throughout the seasons. Our dyes can be mixed with different natural mediums, such as plant starch from wheat, potato and rice, and egg or oil, to create different kinds of writing, drawing and printing inks.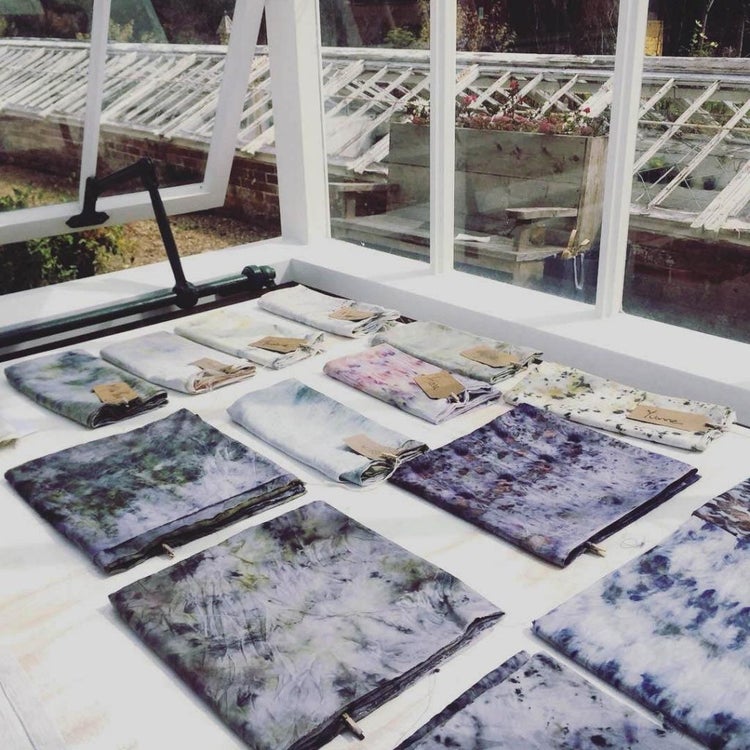 We use our dyes and inks for applying a range of surface design techniques, such as bundle dyeing with fresh flowers, hapa zome (a Japanese leaf dyeing technique), shibori tie dye with indigo, block and screen printing, painting, drawing and writing with quills and dipping pens.
The idea is that you can use natural materials which are found in your bioregion, to create beautiful things which are safe to use and put back into the ground as biological nutrients at the end of their useful life cycle, which nourish the soil and other life forms, regenerating, rather than polluting our natural habitat.
How did you get into it?
I studied Surface Design BA at LCC in London. For me it was a disenchanting experience. I found the environment quite toxic, the processes not so creative nor mechanical. I craved something more sensual, meaningful, ecological, safe and tactile. When I learned about natural dyed wood block printed cotton, silk and khadi papers in Jaipur, I jetted there immediately to learn about this ancient tradition. It's entirely produced by hand – the drawing of motifs, carving of wooden blocks, extracting and mixing of inks and printing repeat patterns, and through a family-run business which works with a traditional cottage industry model.
The whole thing inspired me and lit me up. There had to be a way to work like this back home in England, and I was fascinated to research and learn more about our own natural dye and print industry in the UK, which only disappeared about 100 years ago. My favourite print designer of all time is William Morris, as one of the last remaining figures to retain this way of creating, with a social and environmental ethos at the core of his work, while all other factories transitioned to cheaper and less thoughtful means of producing to scale, with chemical based colours to boot.
I spent time after university travelling the globe learning different natural dye traditions and later came back to an art residency in the Cotswolds to research and develop my own natural dye practise using local hedgerow plants and organically grown produce.
In 2014 I started teaching natural dyeing and printing with local materials and from there started to develop my business in terms of what I can make and share with others. I've since taught in all kinds of wonderful institutions, including the Saatchi Gallery, Fashion & Textile Museum London, Hauser & Wirth, the Barbican, the London Transport Museum, Jo Malone, Ace Hotel, Soho House and Plymouth College of Arts.
This year I published my first natural dye craft book, Botanical Inks Plant-To-Print Dyes, Techniques and Projects, with Quadrille books.
Walk us through the ink dyeing process.
Natural dyeing is essentially a very simple technique, which involves gathering plant material, chopping it up and soaking it in water, allowing the colour to extract from the plant into the water. This can be done in cold water and left for several days or weeks until a deep saturation of colour is achieved: either in a glass jar in the sunshine, to encourage the extraction to happen quicker with solar heat, or with the application of heat to speed up the process more.
Our workshop at The Collective Old Oak is a different technique, called bundle dyeing, which uses the direct application of flowers and plant materials to imprint colour and pattern onto silk cloth. In this process, steam is used to gently tease the colour out of the plant material and be captured by the cloth which is sits next to. I also use natural dyes to make inks for block and screen printing, drawing and writing. I take the natural dyes and mix them with a plant based binder to create different kinds of medium to suit different surface applications.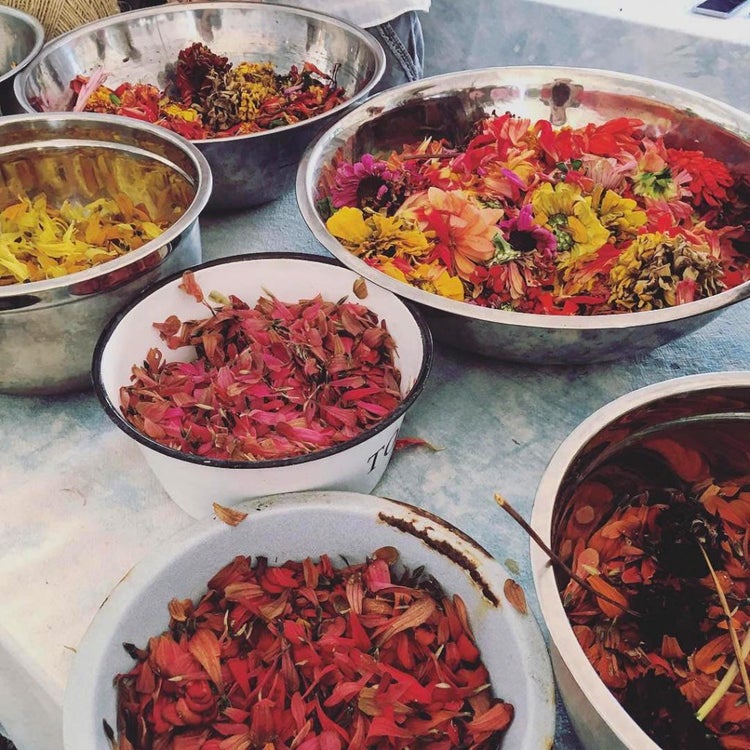 Is it true your inks are environmentally sustainable? Tell us more.
I only use 100% plant based materials for making dyes and inks. This means that they are safe to use and safe to go back into the soil and water systems after their useful life cycle. This means they are not just sustainable – ie. sustaining what already exists – they are also regenerative, offering biological nutrients to other life forms and microorganisms. I do not believe it is acceptable to use any materials which are toxic within my practice. This means any material I use must be harmless to work with and to the environment it ends up in after my use with it.
What's the most rewarding part about botanical ink dyeing?
There is so much about this way of working with nature that is rewarding. I get to enjoy engaging with natural environments in a different way – seeing and understanding plants and building a relationship with them which is new and interesting. I get to be around plants more, which is the most nourishing and energetically rebalancing experiences life offers me.
I get to be creative, making things with my hands and from the heart, knowing that the materials I use are good and kind to the wider ecosphere. And I get to share this meaningful practise with other people, who share similar values to me, which allows me to feel a growing sense of kinship and community.
The actual art of natural dyeing and printing itself can be a deeply meditative process, especially with indigo dyeing, which really allows me to slow down and reconnect with myself, calm my sometimes overactive mind and just be still. Bundle dyeing always invokes a sense of wonder and excitement in me, every time I do it. I love the surprise of revealing the prints, having no idea what they will be and always loving the result.
What's the feeling people leave your workshops with?
What I absolutely love, is that mostly people leave my workshops with an honest sense of gratitude or simply having had a lovely time. They generally come to learn about non-toxic, nature connective and also very beautiful and sensual ways of being creative. And this is what I aim to provide.
Do you consider yourself an artist?
Yes, of course. I always have been an artist. I love to draw and paint as much as I love to dye, print, or dance, sing and design things. I express my creativity in so many ways. It used to be mostly abstract expressionist painting and detailed toile drawing with graphite and watercolour on paper. I spent a chapter of my life designing and making recycled block printed silk and cotton costumes for parties and festivals. These days my business itself is a big creative outlet for me, and making things with natural dyes and inks, such as bundle dyed silk lingerie, shibori indigo dyed cushions and dresses, block printed cards and art prints. I also love to dance which is a very creative experience for me. And I am slowly unlocking my singing voice and learning to play ukulele!
I've also been running Bristol Cloth, a regenerative textile system in the UK using carbon sequestering sheep farming, as a means of reducing climate change and regenerating soil fertility, traditional organic plant dyes which are non-toxic and therefore safe to go back into soil and water systems, and the first weaving mill to open in Bristol in 90 years. It is my most important project yet, setting a working model for how cloth can be made again in the UK, in a way which is safe for the environment.
Babs' Flower Bundle Dyeing workshop is at 8pm on Monday, 12th November at The Collective Old Oak. Members, head to the app for more info.