The Collective's Experiences team invited TikTok Shuffle Dancer Elena Cruz to host a series of online dance lessons for our community over the course of lockdown. We spoke with Elena about honing her craft, how discovering her community helped her become more accepting of herself, and how this led to her becoming one of the most liked content creators on TikTok.
Read the highlights from our interview below or watch the full Be More Together with Elena Cruz video.
Where did you first learn about Shuffle Dancing?
I first learned about Shuffle Dancing in 2015 when I went to my first music festival, Ultra, in Miami. I had no idea what Shuffling was before that, and I certainly wasn't a dancer. All I knew was that I liked to dance and that I loved house music. So, when I saw these people moving their feet really fast in that unique way I thought "oh man, I want to learn how to do that. It would be so neat to be able to express myself in that way when I'm listening to the music I love". That lead to me looking up YouTube videos and finding inspiration online. I spent so much time in my garage, practicing, learning, messing up and recording myself. I have definitely become known for my garage dance videos. That's where it all started and that's where I feel like the most creative because I'm in my own space and there are no distractions around. I can just be free and get totally lost in the music.
How long have you been Shuffle Dancing for?
Well, I have to say that I'm forever growing and learning. I would say to get the basics down, to feel confident enough to do it in front of anyone, it took me a few months. You can look back 4 years compared to now and you notice such a difference - just because you practice more, you get more comfortable with it and you define your own style.
Elena, which music festival is on your 2021 bucket list?
I have actually been to Burning Man twice with my brother which was an incredible experience. I would have to say I have always wanted to go to Tomorrowland because it's one of the largest house and dance festivals in the world. I was able to go to a festival in Italy last year before all of this happened, and it was such an incredible experience to be outside of the US, in and around so many different languages and people from different places. Everyone was sharing in the same commonality of music and dancing, and everyone was just so kind even if they couldn't speak the same language - it was just an amazing experience. So, I would say Tomorrowland is high up there on my next festivals.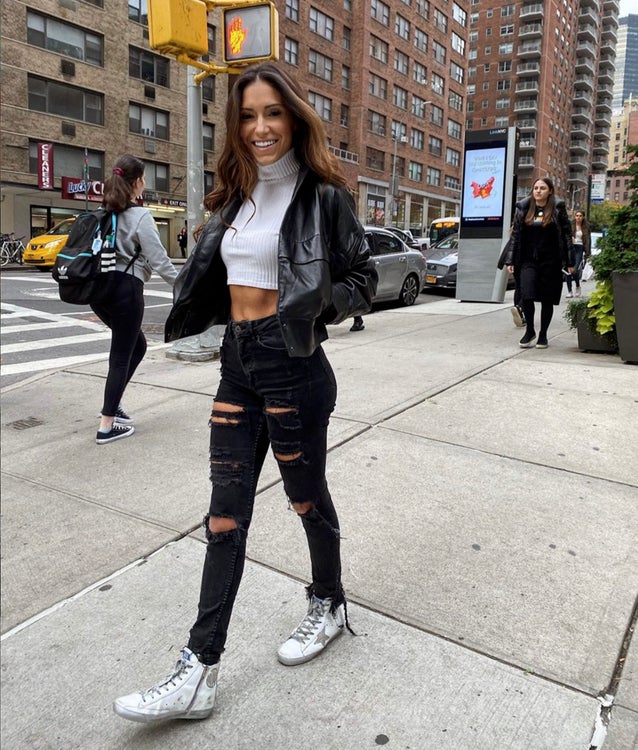 How do you stay connected with your community in lockdown?
Coronavirus has actually made it easier for me to connect with people. I wasn't doing my virtual classes before lockdown started. I just started teaching in-person classes in November, and that was my first time really being able to connect with my fans aside from when I went to festivals and got to meet them in person. Then when Coronavirus hit I started digital classes. It was a whole other outlet and way to connect with other people who have the same passion as me and a way I can also share my knowledge with them. I love my shuffle community, my EDM community, we are all just very welcoming, loving and no judgment people. Everyone can just be who they are and you know, once I found this community I became a lot more confident in who I am, a lot more open and not as shy. It means a lot to me that I can now connect with people and dance with them all through virtual ways now! So even though I would love to go back to normal where we could meet in person, I'm so grateful that we have technology that means I can still connect with my community and reach people.
Elena, do you have any tips for how we can improve our mental wellbeing over the course of the lockdown period and, how we might enhance our own state of happiness?
I think we all have days where it's very tough and it's hard to see the light at the end of the tunnel. Before I moved to New York I was definitely going through a time where I was struggling a lot with trying to stay happy, I just wasn't feeling the same good energy as I usually did. I have to say that something that helps me is dancing. It's something I love and every time I go and do that, it just brings so much happiness to me, even if I put an emotional song on and I'm crying while I'm dancing, afterwards I feel so much better. I would always recommend to other people the power of exercise in keeping a healthy mind. I also think balance is really important in everyone's life. Finding a hobby that brings complete happiness and joy to me made a huge difference to my wellbeing.
Watch the full 'Be More Together with Elena Cruz Interview' to find out which new skills and hobbies Elena Cruz has been working on during lockdown.