The Collective is a hive for inspiration, a melting-pot of brilliant minds, entrepreneurial spirit and boundless synergies.
One of the top reasons our members choose to move in with us is to network and establish meaningful professional relationships. Over the years, we've had members launch new businesses, form partnerships and break new ground in various industries.
Meet Faz, our very own start-up app developer extraordinaire who's been living at The Collective since September 2020.
Read on to learn more about Faz, his journey to London and the experiences of living at The Collective that inspired him to create Katira, a social app.
Tell us a little bit about yourself, where did you grow up, what brought you to London?
Hi, I am Faz. I have been living at The Collective since September 2020.
I was born and grew up in Afghanistan. Being very passionate about technology, I always wanted to pursue my career in computer science. Although I got an opportunity to enrol in the newly established computer science university in my hometown, Herat, I faced many challenges from my family as computer science was a new phenomenon and less than 5% of Afghan people had access to the Internet.
With a dream to one day build a great tech product, I managed to convince my family and started pursuing a degree in computer science. During my first semester at the University, I started a web development agency which was recognised by many national and international organisations.
After 4 years of running my first start-up and graduating from university, I moved to London in 2016. Katira is my 2nd start-up in the UK after my previous start-up (An online restaurant promotion discovery platform) which I ran for 3 years.
What does a typical day look like for you here at The Collective?
Besides working for around 13 hours/day, I enjoy reading for an hour and working out daily. I'd say the library and gym are my two favourite spaces at The Collective.
What do you do for a living?
I write software and am currently working on my new start-up called "Katira". Katira is a group chat app allowing groups to communicate over activities and events.
What inspired you to build Katira?
It was quite a struggle to keep up with the social life prior to moving in The Collective in 2020. Being a Collective Member allowed me to be part of the community and meet various individuals and groups.
Although I was very much enjoying the social dynamics at The Collective, I embraced and relied on social media and digital tools more than ever. Consequently, I started struggling with mental health and decided to close off all my social media accounts. It was a tough decision to leave the WhatsApp groups where we were mainly organising events and staying connected.
As much as I was enjoying the company of my friends and the groups I was part of, at times there were irrelevant conversations which felt distracting.
That's when I thought about a solution where I could stay connected with my group of friends but have more control in terms of the relevancy of the conversations.
Rather than creating generic groups, with Katira you can create an activity with your friends, chat over that specific activity and build a timeline of experiences that can be revisited.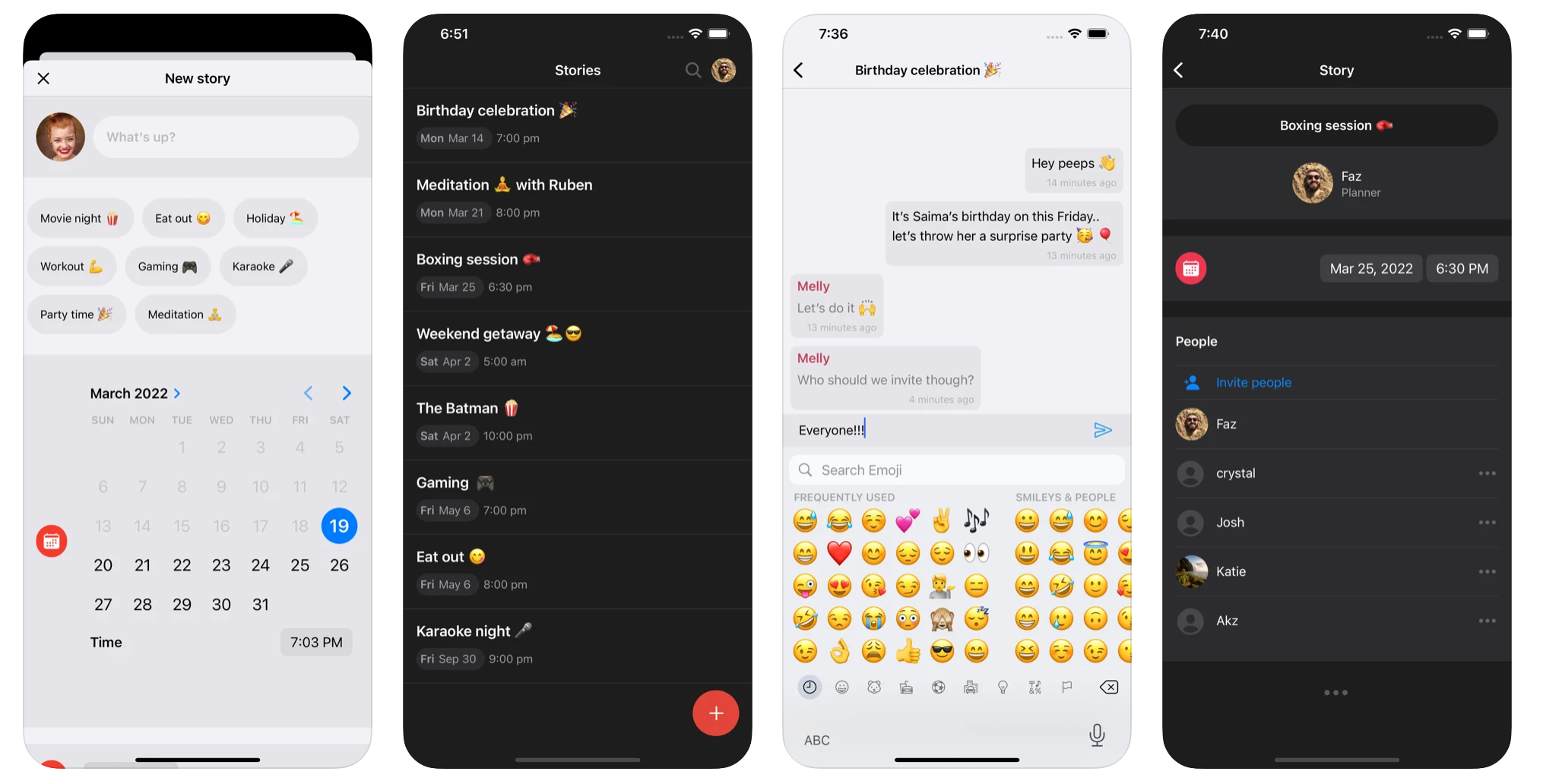 What's the meaning behind the Katira logo?
The logo of a brand tells a lot about its culture and vision. Inspired by my experiences with various groups at The Collective, I chose a multi-colour star as stars have a lot of personality. Each edge of the start represents a group member and the colours represent the diversity of the groups.
Each group member brings a lot of value to a group. I believe that our uniqueness and differences make us special!

Can you share some of the user feedback received about Katira?
Here are a couple of recent reviews from users of Katira:
'Excellent app with activity based focus!'
'Really enjoying this app; as someone who organises events, it's so important for me to be able connect with my people and messages and key arrangements out quickly and with ease!
Katira does this perfectly without these things being lost in a sea of other messages, like other apps! The interface is user friendly, slick and simple to navigate, even for a luddite like me.
Functionality helps me to adapt and change things at the touch of a button! Thanks Katira; would highly recommend.'
Melly S - ★ ★ ★ ★ ★
'Solid App.'
'Great interface and useful tools - good way to make plans and stay updated with friends.'
Tahaismail - ★ ★ ★ ★ ★
Where can I find the app?
The iOS app is available on the App store.
App store link -> https://apps.apple.com/gb/app/katira/id1612446560