Curious about co-living? Wondering what's included in the price, how it feels to live there as a couple, or what the members are actually like? We gathered your questions and got the answers from our community.
Read on to hear about clubs, the nitty gritty of what's included and how chance meetings turn into romances.
What actually is co-living? And what's included in the rent?
For us, co-living is about community and convenience. You live as part of a community, sharing spaces and events but you still have the comfort of a private studio or ensuite to retreat back to at the end of the day.
Your monthly rent includes:
Your own modern studio or en-suite
Just 20 mins from central London
Instagram-worthy shared spaces
Daily events, from breath work to business bootcamp
Co-working and meeting room facilities
Wifi, cleaning, utilities and gym access
Exclusive offers with our partner brands
A diverse community to meet and connect with.
Heather, Customer Experience Team
Ok so what's it like living at The Collective?
I love the convenience of having everything in the same place; being able to save time on commuting between work, gym and home. I also like being able to meet people, having someone on hand to fix the heating, and having the option to change space which allows my mind space to wander. The gym, pool and sauna allow me space to exercise and relax, the communal kitchen is where I can cook with the close friends I've made here; the co-working spaces are great to work or book out meeting rooms for interviews. When it comes to fun and efficient city living, I don't think it can get any better. I'm kind of addicted! Angela, Member
Is The Collective a good place to meet people?
Yes, the diversity of people and personalities is fantastic! There are events that suit all kinds of personalities, interests and tastes. Carol & Mario, Members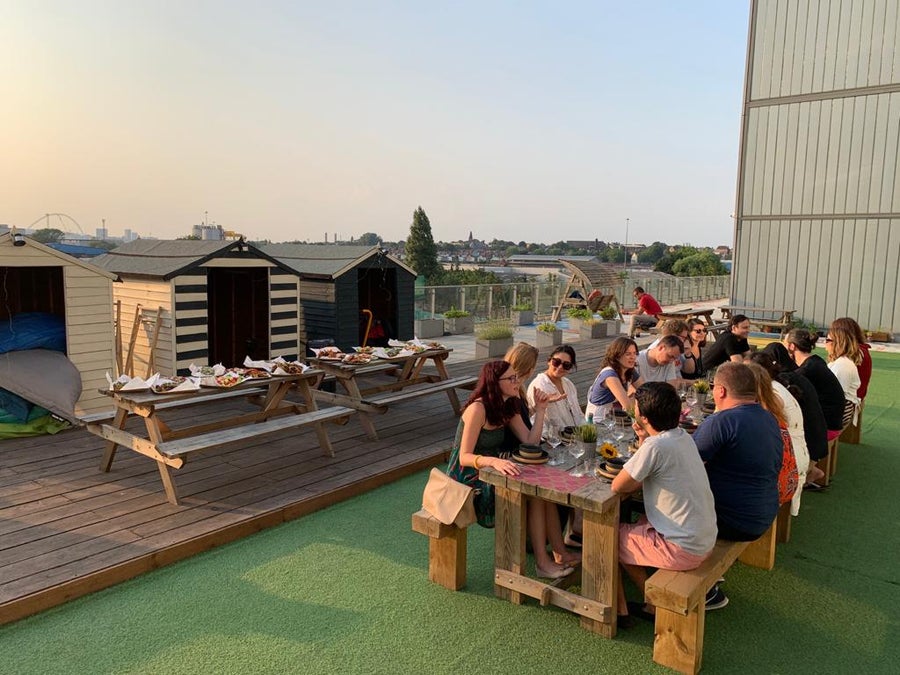 What are the members like?
The Collective is like a microcosmos; you can learn from all the different people. You can find entrepreneurs, very motivated people, and workaholics. If you're looking for people to just chill and hang out, you'll find them too. If you know how to find the balance, you can benefit from all of it. Macia, Member
What is the average age?
The average age of our members is 31 but we have a huge mix of ages living with us, from 19 to 82. Sarah, Community Team
Are there many single people? Am I likely to find love?
Well we definitely met here and fell in love! The Collective is a great way to meet new people with common interests. There's always something going on from cooking to games, dancing, crafting, music and so much more. Join in the community and you never know who you'll meet.
We met at the newcomers housewarming dinner in February 2020. It was my 5th day living in the UK and Ben encouraged me to go to the Games Night. We then kept bumping into each other at Friday night drinks, and other events. It wasn't until lockdown that Ben messaged me concerned that it would be hard for me to meet new people and adapt to life in London. He offered to go for a walk to Sainsbury's to help with my groceries. (I actually didn't need anything but I was more than happy to go for a walk with a cute guy!) He then tried to take me to a park on route which turned out to be a graveyard… we both still laugh about it today. Stephanie & Ben, Members at The Collective Old Oak
Do the studios work for couples too?
There are quite a few couples living here. We live in the same room which is great because when it comes to chores, we can each focus on something. We get things done quickly which leaves us with plenty of time to do what we enjoy. Whenever you want to spend some time with your partner, even just taking a break from work, you don't have to leave your flat as you have him/her right there with you. When you have a husband/wife, you don't really want to live away from them. Arianna & Gerrardo, Members
Is it a bit intense being sociable all the time?
I'm an introvert and really appreciate my alone time. I love waking up super early and going straight to the Spa to have some alone time. Mario, my boyfriend, is more extroverted than me, so he joined the Running Club where he met a bunch of wonderful people! He leaves for a long run on a Saturday morning, and I stay at the studio recharging from all the social interactions that I had during the week.
I love the balance. If you feel like it, you can be super open & friendly, but if you aren't in the mood, you can stay in your studio and show up whenever you're ready to interact. Carol & Mario, Members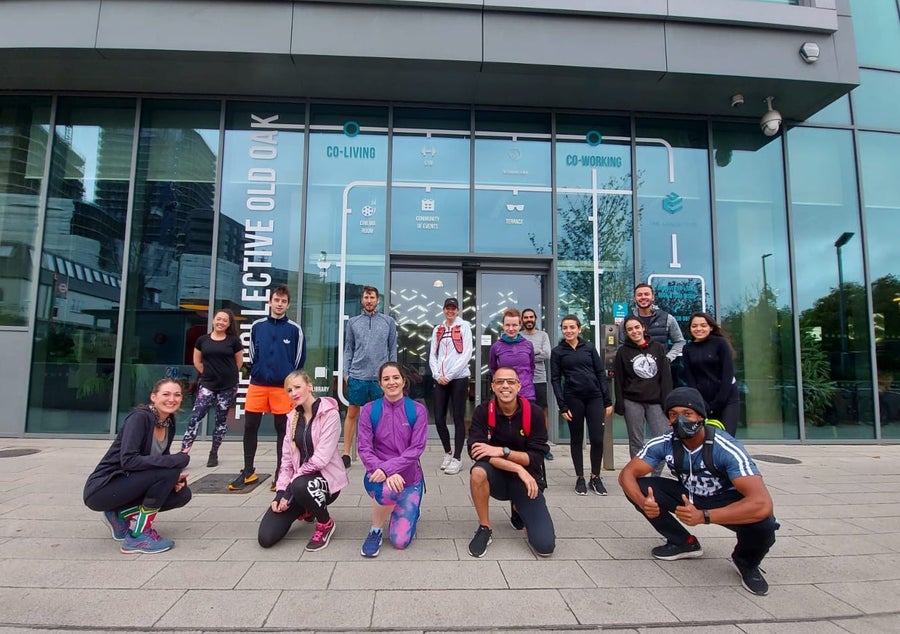 How long do people usually live there?
It's really flexible. You can get a membership agreement of any length between 3 and 12 months; and you can of course renew it to stay longer. We've had some members stay as long as 5 years but the average length of stay is 9 months. Lydia, Marketing Team
What are the events like?
We really enjoyed the chocolate tasting experience with Hotel Chocolat. We got to try so many different chocolates and we ended up having double the supply one would have. I got all the milk chocolate ones, since Gerardo is not a fan of those, and I gave him my dark chocolates, which he adores. It was a win-win! Ariana & Gerardo, Members
Brunch is where you find the nicest people. You wake up looking forward to catching up with everyone. Some of the events wouldn't happen without the amazing people who live here, who put in the effort to organise them. I learnt that you can't just expect to get something for nothing, you have to participate and collaborate. It's like a family. Macia, Member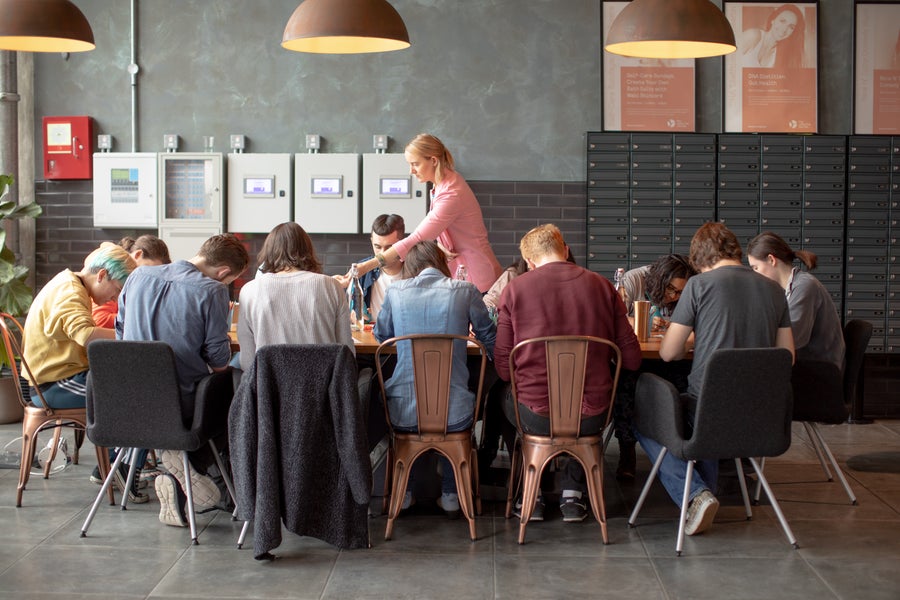 Is it easy to start a club?
Anyone who has an inkling of an idea, email the Community Team or talk it through with an Ambassador. If it's a sound idea and has community benefit, we'll support you in bringing it to reality. It's great fun, involves you more in the community, and gets you networking with a great many people which can only be of benefit. Stephen, Member
What's it like sharing a kitchen with someone in your ensuite set up?
I'm very fortunate that I get on really well with my neighbour. We have very similar aspirations and outlooks and have developed such a great connection and close friendship. I love our little chats in the kitchen, morning coffees or glasses of wine on a weekend. We motivate and encourage each other a lot, and when we both had COVID and had to isolate, this was so amazing to have. I really wasn't well at some points and he kept me positive and was really supportive. Lisa, Member
How does the cleaning work?
All our rooms are cleaned and linens are changed every 2 weeks. The schedule depends on your floor level and can be found on the member app. Ken, Community Team
What advice would you give to a brand new member?
The Collective is about community, so put yourself out and join as many groups as you can. That way you get to meet people and build friendships, which is the foundation of this place. If you are hiding away in your room, you are missing out on the very essence of the place. Stephen, Member
The Collective builds one of a kind co-living spaces to live or stay. Enjoy a private studio or ensuite, with co-working, pool, gym and spa and connect with great people at events like yoga, coding and cocktail making. For true peace of mind, everything is included in one easy bill. That's all the big stuff, like spaces, events, gym membership and the little things, like maintenance, wifi and cleaning too. We sort the boring stuff so you've got time for what really matters. Discover more at The Collective.com.