We love working with local artists to add colour and depth to our spaces. Each artwork tells a story, just like Charles Clary's intricate and mesmerising paper sculpture, that sits behind the hub at The Collective Paper Factory.
We caught up with Charles about his story, his process, and which galleries in New York City he goes to, to get inspired.
Charles, tell us a little bit about yourself. Where were you born, what bought you to New York and how do you find it?
I was actually born in Morristown, a very small town in East Tennessee, about as far from the art world as you can get. But my mother majored in art in college and never lost her passion for it. She was a devoted elementary school teacher and I think I got the passion for art and teaching from her. She was always super supportive of my artistic endeavours.
I lived in New York for almost 3 months. I had a residency at the Elizabeth Foundation in Manhattan and a gallery internship in Brooklyn at a gallery called Pierogi Gallery. I was in Grad school at the time at the Savannah College of Art and Design and competed for the residency and was lucky enough to receive it through a portfolio competition and review. It was a wonderful three months working outside of academia and was such a huge opportunity for my growth as a professional artist. I got to experience all that NYC had to offer, galleries, museums, and connections. I continued to work for the gallery I interned with for another two years at major art fairs.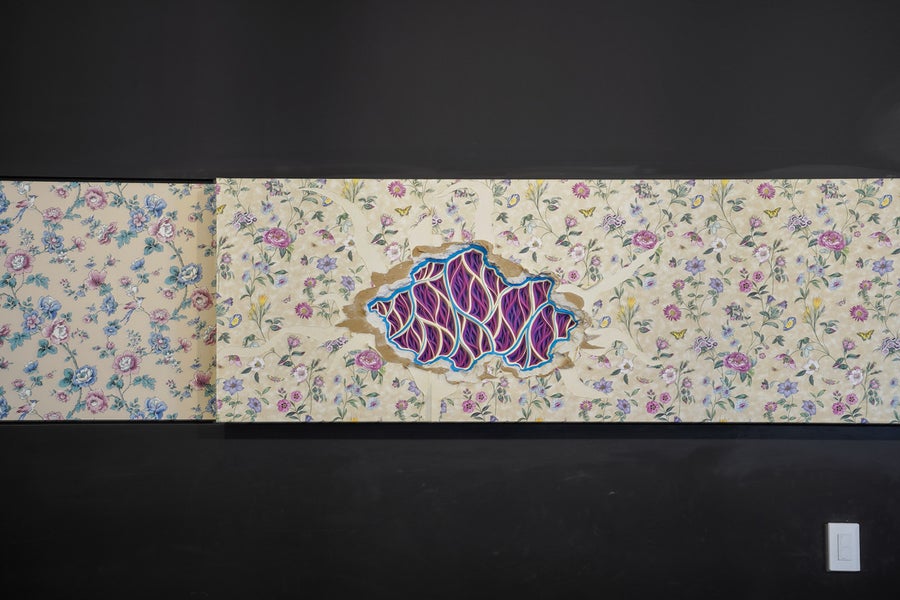 You art piece Pulp-a-Diddlation sits behind our reception desk at The Collective Paper Factory. Can you tell us about it?
Since Paper Factory is literally a 100-year old paper factory, having a sculpture that spoke to the history of the space as a main focal point just made sense. The wallpaper was chosen for its bright and playful colours. The floral pattern had a very 'home away from home feeling'. I love the sense of community that the Collective fosters and I think my work connects with that goal.
How long did it take you to complete? What's it like working with paper?
From start to finish, it took about 8 hours. I actually got to sit with this one for a while especially through the design phase. I worked with an art consulting group which was such a pleasure. The process of creating a piece like this is very time consuming. I start with the construction of the panel building something this precise and intricate is such a pleasure knowing eventually you will destress it and you only get one shot to get it right. I then destroy the surface creating this wound like effect in the surface. This violence creates the opening that then will be healed with my paper sculptures. Next comes the intricacy of the paper cutting. I start with a single layer of paper layered in behind the opening. I trace in about a 1/16th of an inch and then cut that form out. I then use this layer to inform the second layer and so on until I hit the 15 - 20 threshold. I absolutely love working with paper the way it oscillates between fragility and rigidity is mesmerising.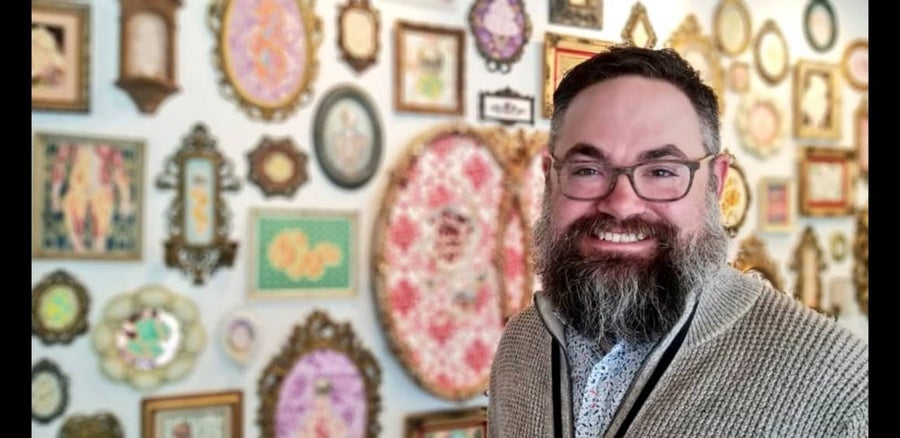 Long Island City is know for it's modern galleries, which ones are your favourite?
PS1 is one my of absolute favourites. Such a hub for contemporary art and innovation as well as The Sculpture Center. I think they are on the forefront of what is going on in the art world. I love gallery hopping when I'm in the city but spending a longer time frame in one space is quite refreshing.
What's it like being an artist in New York?
It was such a wonderful experience living and working in NYC for the short time I did. I was always wandering the city looking for inspiration and found it everywhere. I loved going to Pierogi Gallery, Johnathan Levine Gallery, Joshua Liner as well as Bitforms and so many others. It was a chance for me to view artists that I had only seen in books and magazines. I also loved going to the Natural History Museum, The Met, PS1 and MOMA. I was like a kid in a candy factory, wanting to do and try everything.
Unfortunately I haven't been back in a few years due to teaching obligations and the current pandemic. I'm hoping to make it back up very soon though and miss the city very much.
Where else can we go to see your work?
At the Cosmopolitan Hotel in Las Vegas and the Music City Center in Nashville.