Tell us your story. Who is Algy Batten?
For the past 25 years or so I would have predominately said a graphic designer. But these days I seem to wear many more hats. I co-curate art exhibitions for a space in Shoreditch, I'm a branding consultant, a mentor and a ping pong entrepreneur (if that's even a thing!).
So, what does your typical working day look like?
When I get to work I do something called Morning Pages, it's where you continuously write your stream of consciousness for 5 minutes. It's good for clearing your mind, and bringing things to the foreground that might be troubling your subconscious mind. It's kinda like free therapy. I have a small studio in a friend's editing company called Trim, based down in Whitechapel. Normally my time is split between brand consultancy work and Art of Ping Pong (AoPP), but at the moment I'm deep into a product development phase with AoPP, so most of my time is spent developing our own range of tables and bats. It's really fun turning my attention to product design for a little while.
What did you want to be growing up?
God knows! I grew up in the middle of nowhere and there was no where near as much access to what goes on in the rest of the world as there is now. In many ways though I think that's a good thing. We just mucked about outside, made dens, rode BMXs, stuff like that.
I guess I wanted to either win Wimbledon, be a pro BMX rider.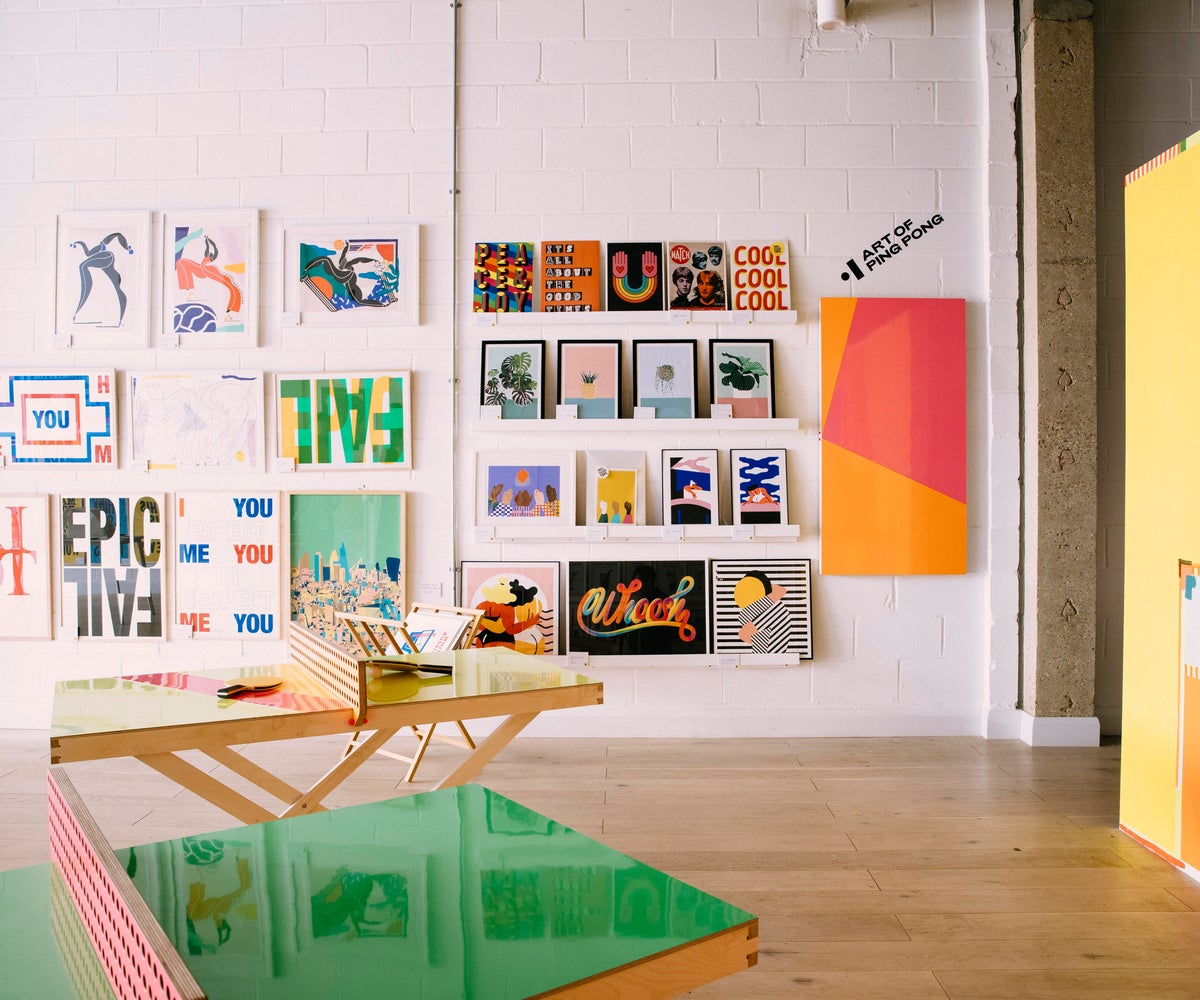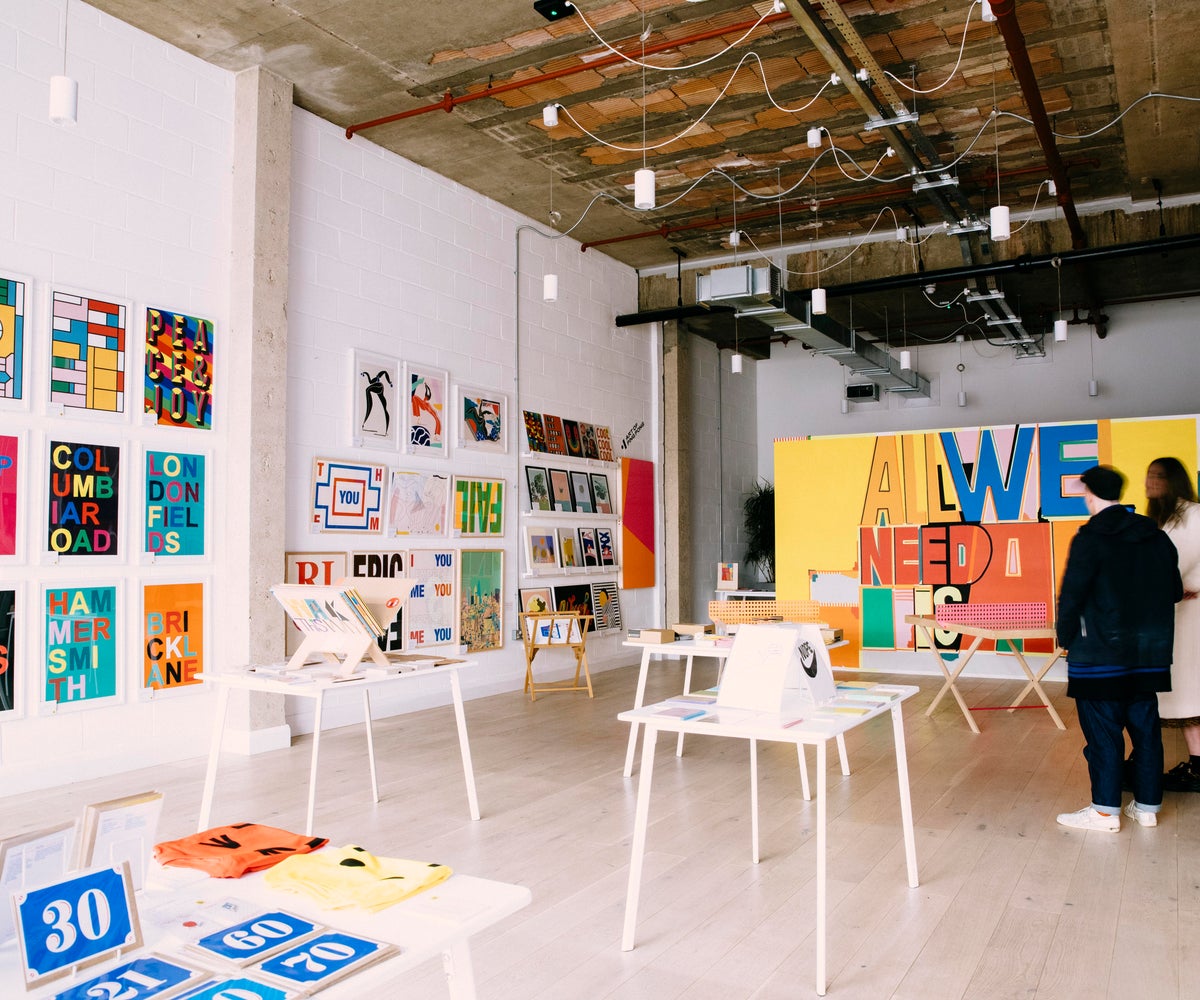 In your previous life, you ran an award winning creative agency for 11 years, What made you decide to take on the art of ping pong full time?
The decision to close Fivefootsix wasn't linked to Art of Ping Pong, but the closure did mean it inevitably gave me more time to develop it.
With AoPP I wanted to create something that was more personal. Apart from building Fivefootsix the majority of my career has been working on projects for other people's businesses. But I have always had a passion for creating something for myself, where I'm not at the mercy of client whims, opinions, budgets etc. I really enjoyed building the brand, culture and reputation of Fivefootsix with Mark my business partner. But ultimately it was a client servicing business, so that was the focus of our work.
So the most satisfying part of AoPP is that it gives me a platform where we have total creative freedom. Something which grows directly from a passion and is able to flourish with no unnecessary expectations placed upon it. It's where we can challenge ourselves, experiment, iterate and give ourselves the much needed freedom to fail.
How did you get here? How was Art of Ping Pong born?
Around 2011 I bought a table for the studio and I'd invite friends around after work. A few of us thought we were quite good and entered the national ping pong leagues. But the scene wasn't quite us, and we clearly weren't that good! So we created our own ping pong socials in the studio.
Around that time I pitched an idea to Nike to use their Nike Lab space in Shoreditch to hold ping pong nights. I was running with Run Dem Crew, one of the early urban running clubs, and we used that space for our running meet ups on Tuesday nights. Nike didn't bite as ping pong wasn't on their radar back then. So we continued with holding ping pong nights in our space and then we held a couple of larger tournaments for local creative studios to hang out more and get to know our neighbours.
To coincide with one of these we asked 10 illustrator friends to paint some blank paddles that we could auction off. All of the money raised at the time went to Children in Need, who was Fivefootsix's client at the time.
That was where the combination of ping pong, events, art, products and supporting good causes started to come together.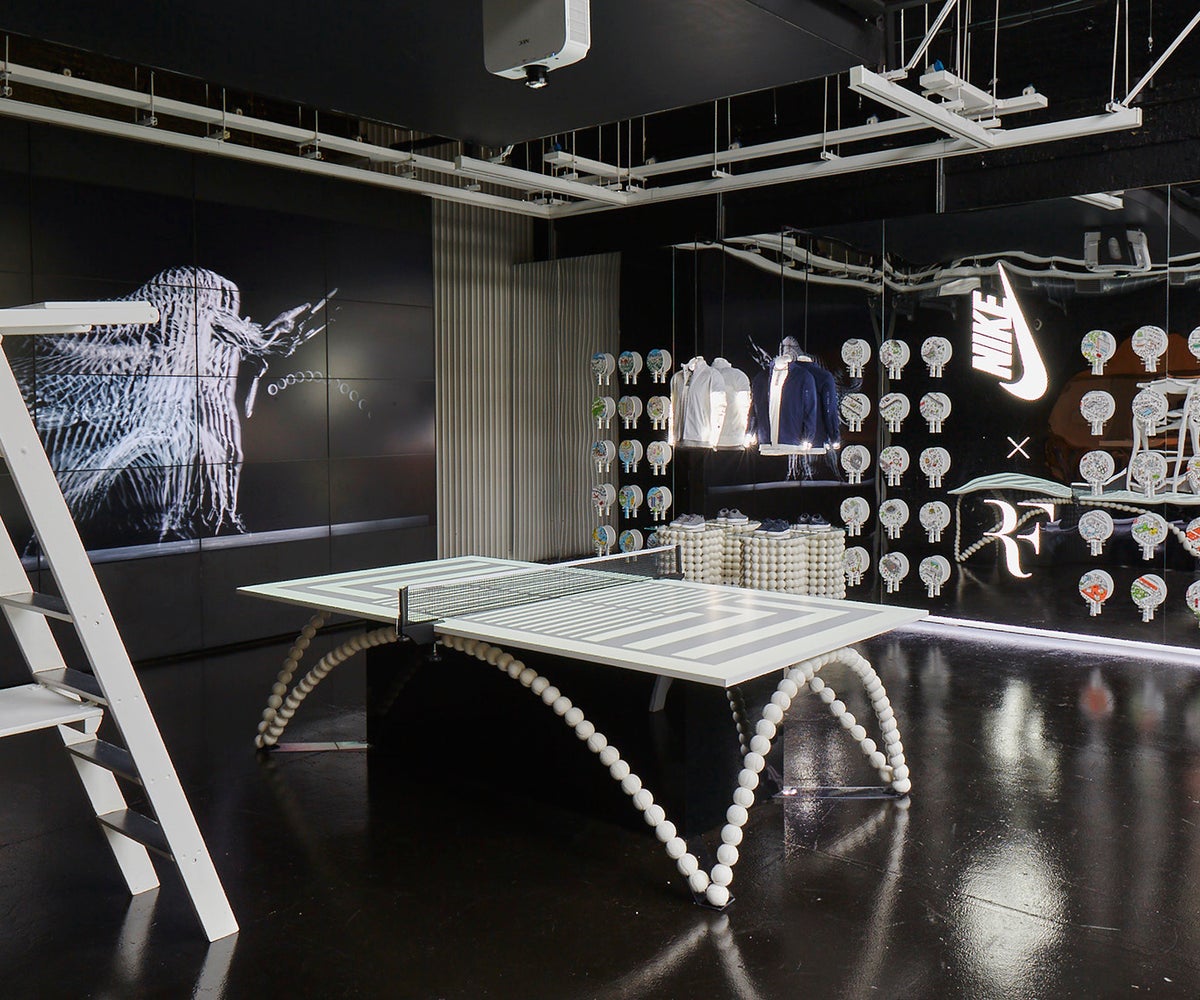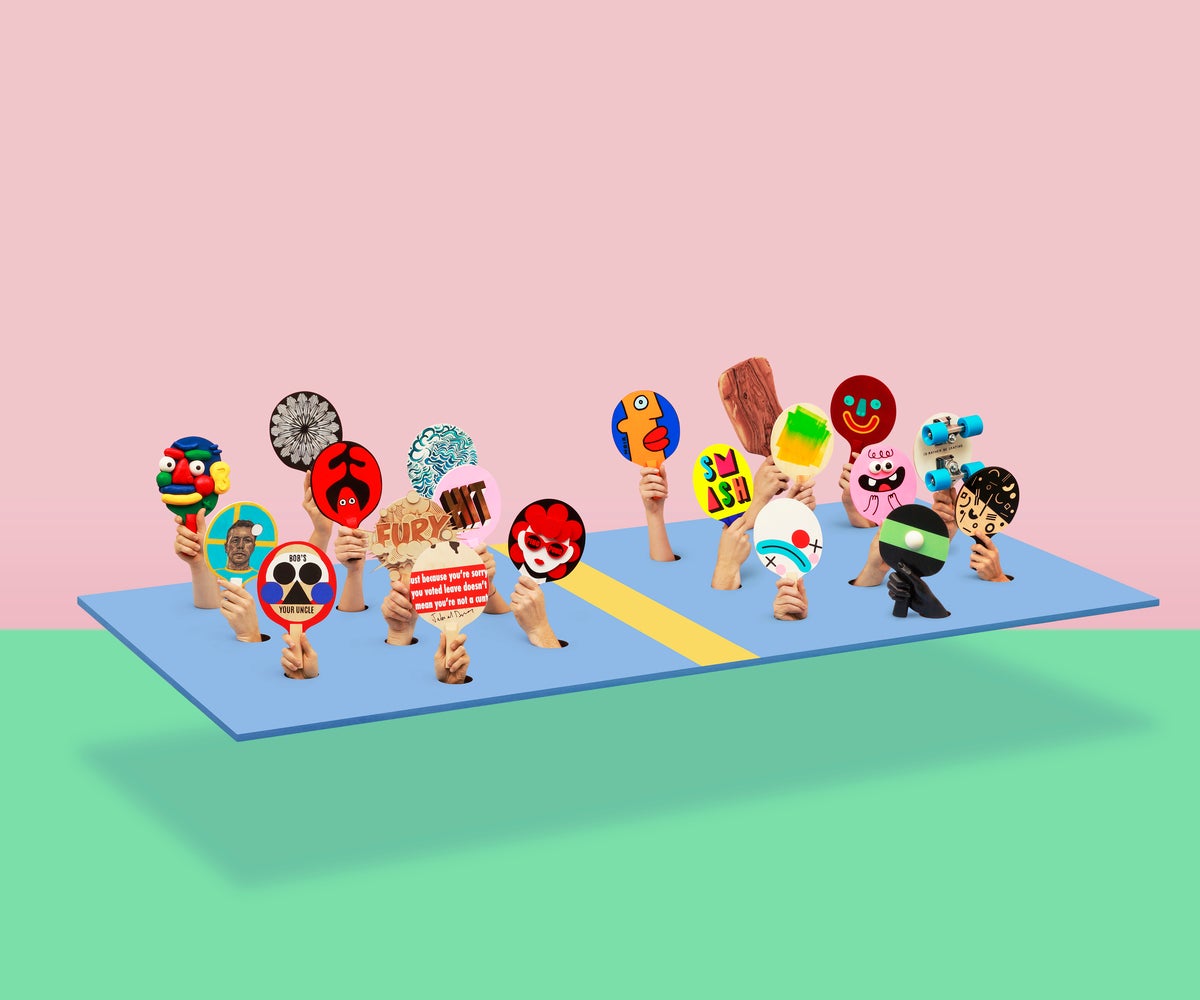 Your role is highly creative, how do you combat creative block?
If I'm working on a creative project I like to surround myself with as much information as possible, the brief, the background, the context etc as possible. And then go for a run, or even play ping pong. It's that flow state and the exercise that lets your mind be free. I'll see what that throws up and then talk to people, people from all sorts of industries and backgrounds. The broader the context and the space for our ideas the better they can be.
Tell us about the mini art tables, that double as ping pong tables and wall art.
I used to have a mini foldaway ping pong table at home. But it soon got relegated to the garage, which was okay as the garage became like a mini ping pong den. But after a while the garage became full of old kids beds, high chairs, bikes etc. And so it had to go. Which got me thinking about ways to get one back in the house, but the standard mini tables are pretty ugly things and even when folded the need a lot of space. Naturally we love a bit of art in our house so I wondered if it was possible to make one where the surface doubled up as art and you could hang it on the wall.
I worked with a young graduate from Kingston on the idea, but together we couldn't resolve a folding mechanism for the legs the meant they could be erected in seconds. So I kinda parked it for a while. Then last year I was introduced to a young product design agency and we worked out a better leg folding system which I took to a small workshop in Devon. We went through a few prototypes and design updates and finally hit upon the final design.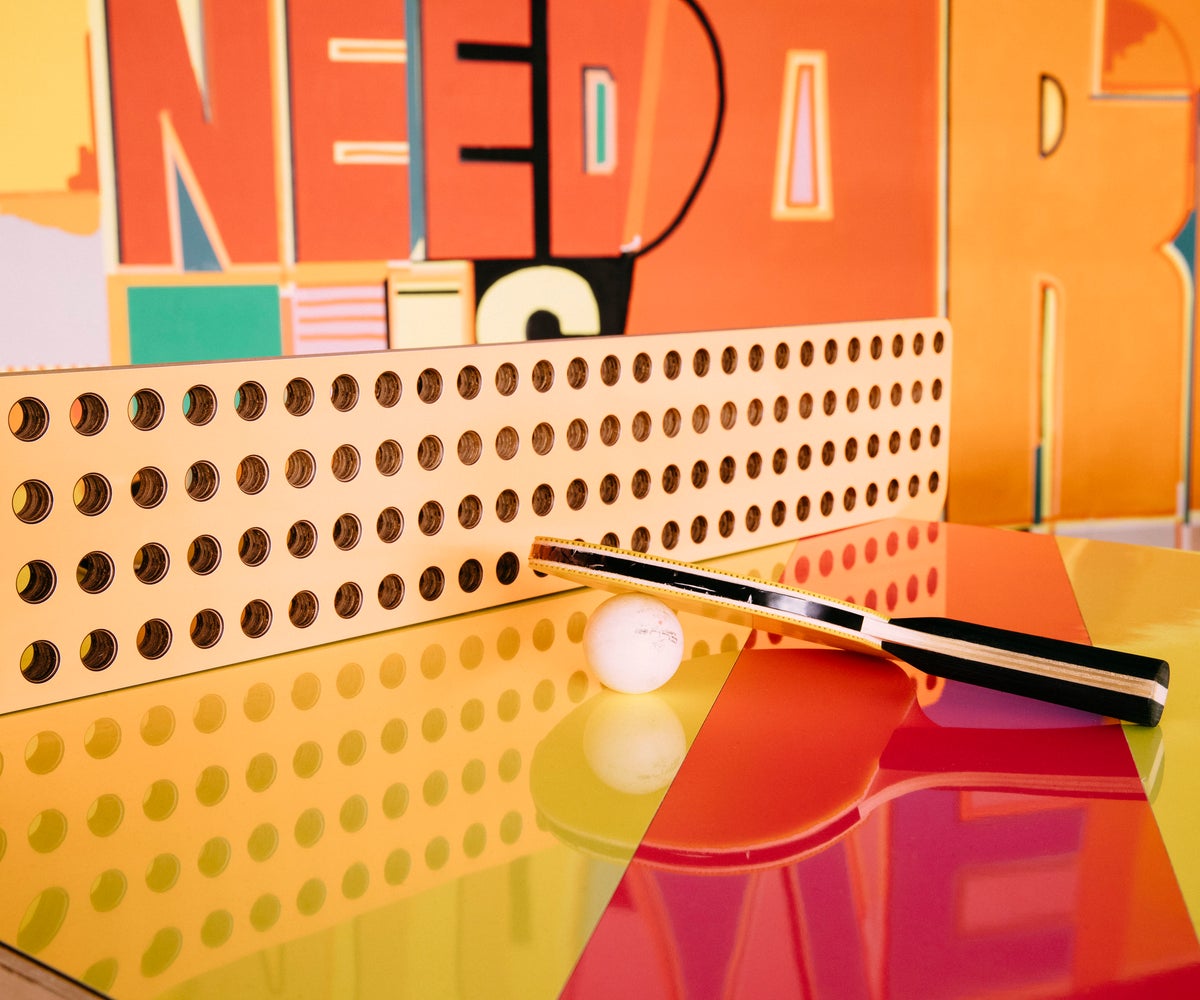 The most satisfying part of AoPP is that it gives me a platform where we have total creative freedom. Something which grows directly from a passion and is able to flourish with no unnecessary expectations placed upon it. It's where we can challenge ourselves, experiment, iterate and give ourselves the much needed freedom to fail.
Tell us about the experience people have when they first see and play with your ping pong tables.
When they first see them they love them, there's a wow factor. But when you first play on one it's hard. You feel like you have to play soft with them. But after a bit pf practice you get your range and you can actually have brilliant rallies where you end up a few feet away from the end of the table.
The art of ping pong is all about collaboration, can you walk us through some of your favourite collaborations to date?
One focus of AoPP is to support good causes. So working on our charity auction I've been lucky enough to have partnered with some of the world's most exciting artists to produce hundreds of unique artworks. Some of these wonderful artists have been: Camille Walala, Anthony Burrill, Noma Bar, Supermundane, Hattie Stewart, Jean Jullien, Thierry Noir, Mr Doodle, David Shillinglaw, Morag Myerscough, Jake & Dinos Chapman, Alan Kitching, Ryan Gander, Mr Bingo, Kelly Anna and many more.
Another one was in 2016 when we were commissioned by Nike to produce 60 bats to adorn the space for the launch of Roger Federer's new range of tennis clothing. As it was an indoor event ping pong was their interpretation of tennis. Ironically it was in the same Nike Lab space in Shoreditch where we asked about holding our own tournaments five years before...
I worked with Toby Melville-Brown to create a story of RF's career using 60 hand painted bats. And the nice thing about this collaboration was that Nike gave me the bats back at the end of the event to auction off for charity, which helped raise a couple of grand for Roger Federer's Foundation. And I liked this synergy of working on a commercial project that has a charitable legacy, which is something I'm keen to explore more.
At The Collective, we're passionate about bringing people together to create a shared experience. What does it mean to you to work with us?
From what I know and have experienced over at Old Oak, your concept and your space it pretty amazing. I wish this kind of thing was around when I moved to London about 20 years ago. It wasn't until I found a community through RunDemCrew in East London in about 2007 that I realised that's what had been missing for a lot of my time in London. So the fact that you guys are making that available to people is wonderful. London can be a lonely place.
If I had the budget and the venue I would love to create my own little ping pong community in the same way that RunDemCrew have done in running and other friends are doing with SwimDemCrew for the, yep you guess it, swimming scene.
What advice would you give a creative looking to take make their side hustle a full-time job?
Think really hard about whether it should go full-time. The freedom that comes with it being your side project will inevitably be harder to hang on to. Instead of it being full-time can you see it as another leg to your table. Businesses/Individuals can more stable if they don't have to rely on one income stream.
This makes me think of the tech guys UsTwo. They have a client servicing arm, a games arm and now they have become venture capitalists. All three segments of the business can support each other really well.
What's next for Algy Batten, and the Art of Ping Pong?
For myself I'm super happy to be joining an exciting agency in a few months time. It's also going to be quite a change for me as I haven't worked for someone else, except as a freelancer, for 19 years! It's also part-time so it gives me one day a week to concentrate on Art of Ping Pong. Which will actually be a good thing. It will mean I will only take on projects for AoPP that get me really excited.
The things I have lined up are developing our own collection of bats. Launching the illustrated Mini ArtTables, the first one will be in collaboration with Kelly Anna. A few more art collaborations at the Book Club in Shoreditch. And hopefully another charity auction towards the end of the year...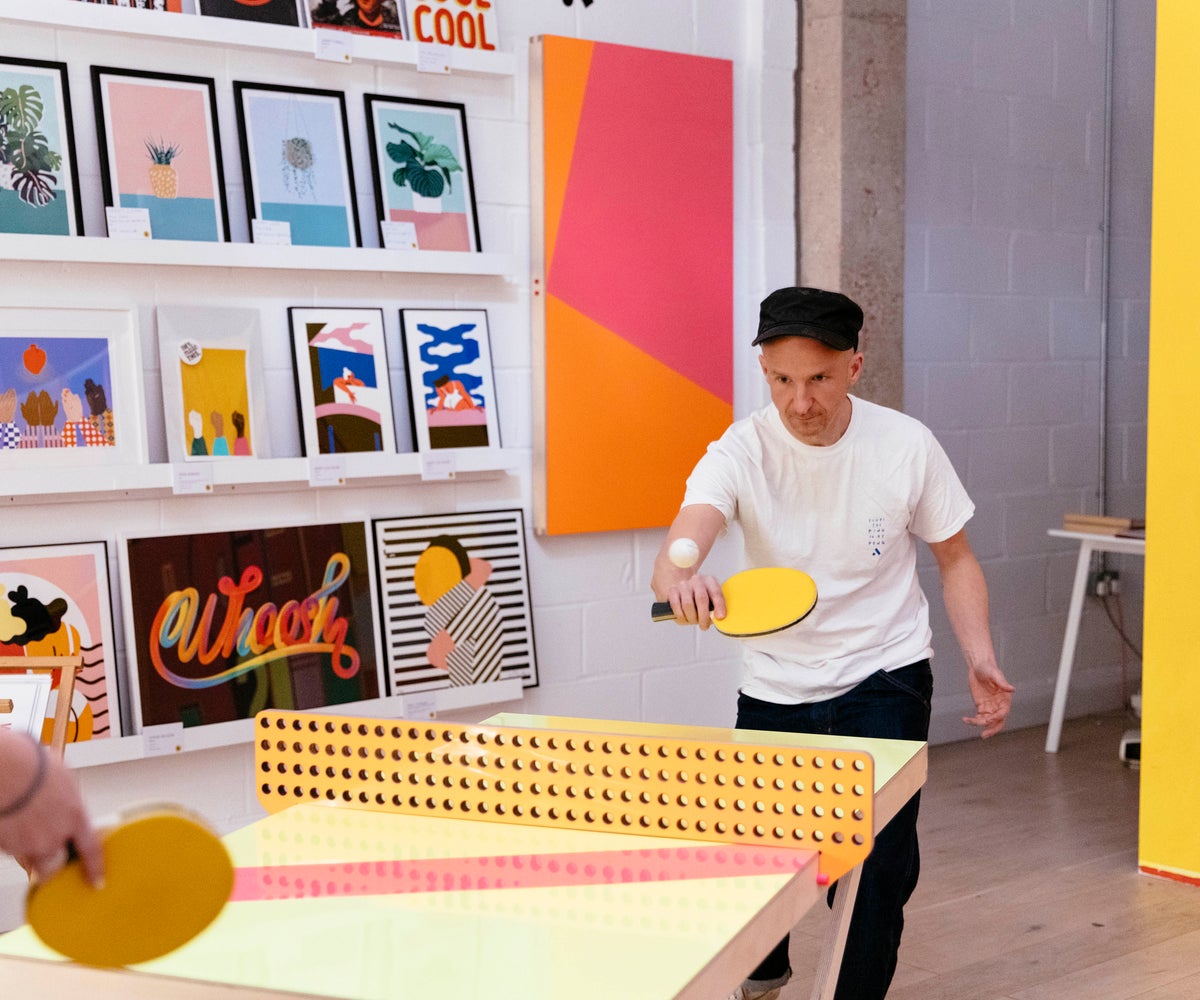 Our day with Algy at his friends pop-up in Hammersmith was pretty amazing, and we came away feeling inspired, and even slightly better at ping pong!
A few weeks ago he joined us at The Collective Old Old to run a ping pong tournament with the community and it went down like a house on fire, and we are so happy he is coming back to help our members flex their creative muscles in some paddle artwork. Keep an eye on our Instagram, Facebook and Twitter for more inspiration and an insight into what our community get up to.