After only two months working at The Collective, last month I did something I never thought would be within the remit of what many would class as a normal day at the office. Rather than jumping on a packed and sweaty Northern line train, I packed my bags and ventured to the airport, unprepared and with no expectations of what the next four days would hold. The only certainties were that I was going to a festival in Poland called Garbicz, and that I would be joined by around 20 of my wonderful colleagues. An interesting start I'm sure you'll agree. But what happened next would exceed anything I could have ever imagined, and my heart and mind would be opened in ways I never thought possible.
I didn't know then that I would soon try out meditation classes, immerse myself in music and arts, as well as quite literally throw myself into the crystal clear, relaxing waters of the lake situated in the centre of the festival. Best of all, I would make connections with amazing and inspiring people.
Going in with zero expectations or knowledge of what the venue would look like, where we would sleep, or what the festival was even about allowed me to revert back to a childlike state of mind: a sense excitement over the small details, impressed by everything within my surrounds, and open to whatever the experience could bring. It was a perfect opportunity to escape the normal day to day or work life, and a once in a lifetime chance to embrace it all with my like-minded colleagues.
And it was beautiful. So beautiful. The festival was set in the midst of a forest, with trees for miles and grass beneath our feet. Every inch of the forest had been decorated with such careful detail, so we were surrounded by chandeliers, lights, bunting, balloons, wind chimes, disco balls, streamers and more. Every moment was a sensory delight, with colour and sound filling every corner of the forest. No matter the time of day, the music acted as a backdrop to our experience, with everything from deep house and techno, to opera, disco and club classics – an eclectic mix that offered something for everyone.
What I loved most, aside from the beauty, was the people. I have come back from the festival with colleagues-turned-friends, from different cities and backgrounds, but all with the same values: openness, honesty, exploration, and an overall lust for life.
That isn't something you can buy and something you can never force, but being in the surroundings of a festival allowed us to be ourselves and thrive. We became part of a community that fostered new experiences, and this is something I have taken back to my 'normal life'. There is nothing more important than those moments. Doing this as a company felt especially unique and rewarding.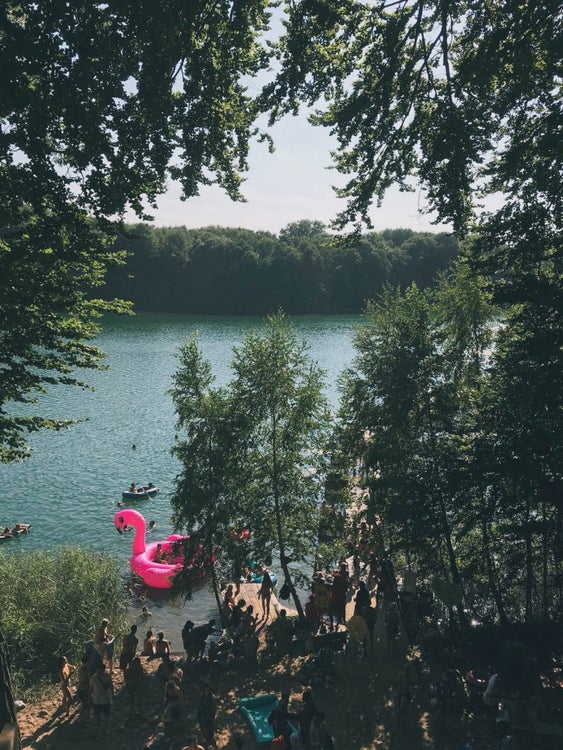 Garbicz, like most festivals and communities is a place where people are completely free to be themselves, for them to revel in creativity and inspiration, to choose to live in a community that becomes every bit as vital to their time as the location or surrounds they are within. Would I go again? Without a shadow of a doubt.
And I'm sure my colleagues and new friends would as well. Here's what they had to say:
"As someone who went into this experience with a certain degree of apprehension, I was amazed by how much fun and freedom I was able to find at the edge of my comfort zone. As a team, we really banded together over the weekend, with the most gorgeous lake, forest and incessant pulsating beats and lights as the backdrop to our playground." – Nabila Walji, Head of Talent
"Garbicz Festival was the absolute high point of my time here at The Collective. It was fantastic to spend some time with others in the business on a personal level and to really reflect on life. I came back completely rejuvenated, feeling incredibly valued as an intern, and with a fresh perspective to share with the rest of the office!" – Jonathan Colak, Operations Intern
"I left London for the festival with few expectations, and Garbicz was everything I could have hoped for, and so much more. Even though there were thousands of people, everything seemed to work seamlessly; people were happy and did their part in being mindful of the nature, there were no massive crowds or misbehaviour, and it just seemed like a huge, happy gathering. What made the experience extra special for me was not the world class DJs, the ultra cool art installations and performances or the delicious food – it was being in nature, completely disconnected from the outside world, spending time on the gorgeous lake and connecting with both old and new friends that truly made the experience for me. The epic partying was just a nice plus!" – Tia Tuovinen, Community Host
"To me, transformational festivals are about entering a space where you can let go and connect with yourself and others through music, dance, performance and more. Garbicz Festival has the perfect natural environment for doing this, and there was so much attention to detail and love put into the festival that you couldn't help but to radiate that love and energy back into the space. I felt very grateful having the opportunity to go to a festival like this one with my work colleagues, and it made me feel that I am part of a company that aligns with my values and encourages me to be playful and free. Hopefully it becomes a yearly tradition at The Collective!" – Matt Lesniak, Experience Research and Curator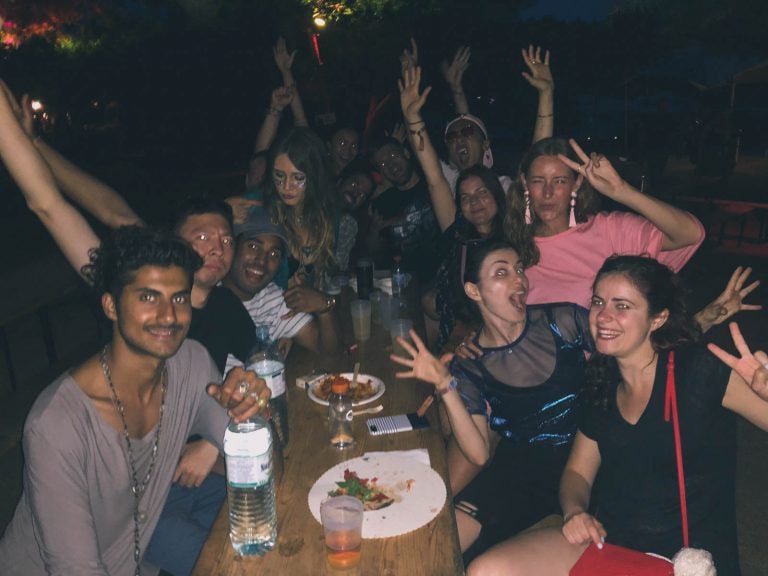 "As my first festival in Europe, I was astonished with the amazing energy I felt at Garbicz. People were genuinely connecting on a deep level and it gave us the opportunity to bring our totally authentic selves during the festival. Personally, it was a time of connection with my true self and also with the pristine nature, with the bright lake and the lush forest. And of course, it was great to shake my body a little bit with all the deep crazy hypnotic music." – Gabriel Voto, Impact Manager
Want in to our awesome work culture? We're always looking for the best talent. Have a look at open positions at The Collective.