This month we kicked off our 'Cooking From Around The World' event series with a cook along courtesy of Pure Punjabi. We caught up with Surinder and Safia, incredible mother and daughter team behind this North Indian catering company, cookery school and traditionally blended spice purveyors to find out what their secret is.
Tell us a little bit about Pure Punjabi. What led you to setting it up?
Surinder: It all started in 2010, with my search for artisan spice producers for our small speciality and fine food shop. I was looking for a producer of non-westernised, premium blends of spices, made the way Indians make it at home. What I found were non-heritage products inspired from travels to India, created from recipes online or modern day fusion versions. It wasn't what I was looking for so I chose not to stock anyone, rather than have something I wouldn't give to my own family. Then the penny dropped... I had been taught from a young age how to make the traditional village garam masala from our region of Punjab, North India, and also how to cook all our Punjabi dishes in the traditional way. So I created our first product, Pure Punjabi Garam Masala....and the business was born.
Joined by my daughter Safia in 2013, who I had 'trained' from age 7 exactly the same way that my mother had taught me. From the partnership with Safia, the business grew from a couple of spice jar products to become an award-winning cookery school and private & corporate food events business, coming back full circle in the pandemic, to where we started, our products are now an extensive range of meal kit boxes, dinner kits and meal kit sachets, with live virtual cookery events.
What is Punjabi food? What are the signature dishes and what traditions surround it?
Punjab is in the north west corner of India, bordering Pakistan. Known as 'the bread basket of India', Punjab produces huge amounts of wheat, potatoes, sugarcane, mustard, lentils, pulses, fruits and vegetables - so the food is mostly vegetarian. In traditional Punjabi cooking you can expect lots of dhal served with rotis, and vegetable dishes like 'aloo gobi' (potato and cauliflower), 'aloo gajar' (potato and carrot), and 'saag' (mustard leaves). You'll also find street food snacks like pakore (onion bhajis), samose (samosas), and chaibra (Bombay mix).
At times of celebration meat dishes like tandoori chicken, keema (mince lamb with peas), or lamb biriyani would be served. These celebrations would usually be social rather than religious (as Sikhism and Hinduism don't allow the consumption of animals during times of celebration). We've actually got a blog all about the history of Punjabi food on our site.
Safia, what's it like working with your mother? What have you most enjoyed?
Safia: We work well together as a team, and luckily have a natural divide in the tasks we like to work on. We've always worked like this as a family, with each of us doing the tasks that were our strongest.
My mother raised me, and my two brothers by herself, with no support, and from an early age we worked alongside her to pull together as a family. She always told us that we had to imagine that we were in a rowing boat and that if we didn't pull together and in the same direction, we wouldn't move forwards.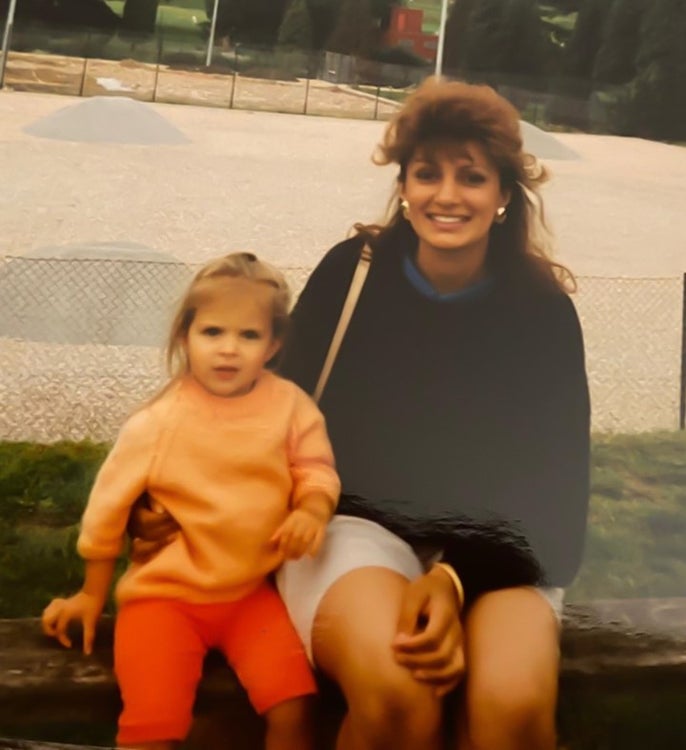 And Surinder, what's it like working with your daughter? What have you most enjoyed?
Surinder: Safia has been at my side in the same way that I worked alongside my mother. My mother started teaching me the traditional skills of sewing, embroidery, crochet, knitting and most significantly, cookery, from the age of about 7 years old, and after her death, when Safia was about 18 months old, I realised the extent of the skills and knowledge she had given me and that I needed to pass this to my children. Safia's greatest interest was in cookery, and really, the business has been a gradual development and transition over a lifetime. As a single parent all three of my children have always helped me and 'worked' with me in whatever stage of life we were at, and this has naturally transitioned into business. Like life, there are times when you annoy each other, so you just work in your own space for a while, and there are days when one of you is 'off,' or both of you are 'off', and on those days you take a duvet day and get back to it the next day.
What has been your proudest moment as entrepreneurs?
Being featured in The Telegraph; being invited to 10 Downing Street as part of Small Business Saturday (a real moment that we wished our parents/grandparents could have been alive); being named top 8 UK Indian cookery courses by Olive Magazine; being head-hunted by a Los Angeles marketing company to deliver the culinary experience on a 10-city European roadshow; winning FSB Family Business of the Year South West; and being selected by Google as a case study. There are so many!
What challenges have you had to overcome?
Safia: We knew our food inside out but the whole process of setting up the business and working out who our customer was and what they were looking for took a lot of time and patience. We're self-funded and had to learn everything from the ground up. Although Surinder has always been self-employed and comes from a family in retail and property, the digital era in which we live, and the different means by which we can communicate with customers, was a new learning process.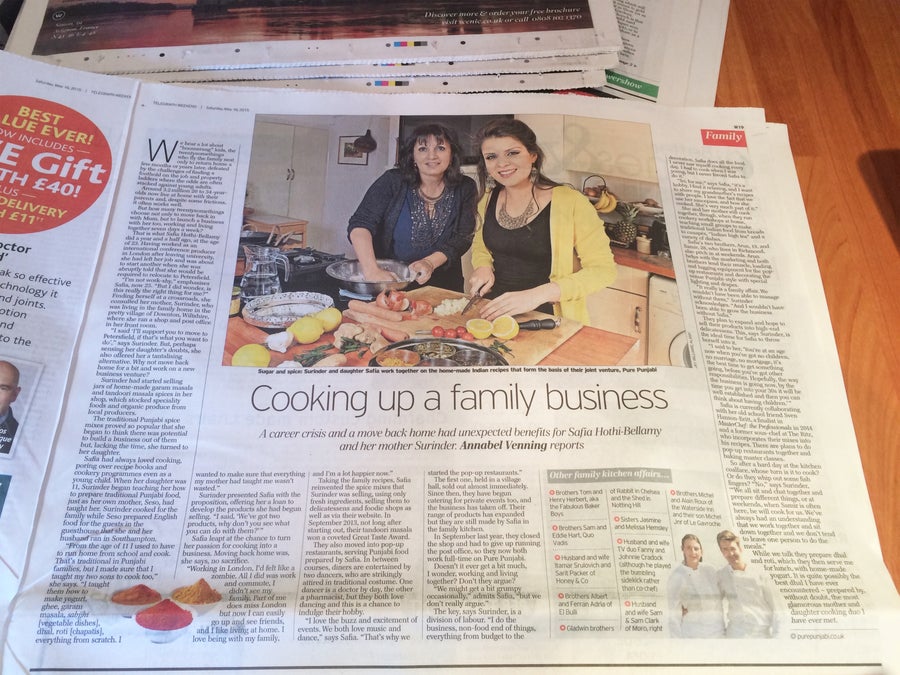 What have you learnt from each other?
That we have to have a reset every now and again and that we don't always agree on the road but we do agree on the destination. We've got a different style of working and have learned that we can't totally separate the mother-daughter dynamic from the co-director dynamic, so we just go along with it and if you want to make something work, then you will.
What advice would you give to anyone looking to go into business with family?
Safia: Realise that people are different when they're at work. I remember a friend of mine was setting up his own business, and his girlfriend wrote him a 6-page email one morning called 'things to consider'. Whilst he appreciated everything she was doing to help, he was surprised at the amount she had written. He's very successful and couldn't have achieved the things he has if he hadn't already known some key things covered in her email.
I turned to my friend and asked "has she ever actually seen you at work?". (At work he is organised, methodical and very thorough.) At home, he is always running 5 minutes late and is 'last minute dot.com' about everything. I said to him "you know how you are at work, but she doesn't" and then I saw a shift in his expression, and he got it.
Moral of the story: try not to let your impression of people you live with influence your opinion of their work capabilities. People are sometimes amazingly talented in ways you just haven't seen, so give them a chance like you would anybody else in a work environment. We are all different people in different roles.
Could you share a favourite recipe. Why is it important to you?
Surinder: My favourite is an Indian fudge called 'Besan', (pronounced Beh-sun). It's made using chickpea flour which is cooked out in ghee for a long time until the consistency changes completely at which point sugar is added. The 'fudge-like dessert is pressed into tins and cut into squares or rolled into dumplings. The best way is keeping the mixture loose and then adding almonds and other nuts and sometimes dried fruits, and making a sort of crumble type of mixture, called Panjeeri or Pinni, which Punjabi mothers make for their daughters after childbirth.
My mother made this for me after having Safia and her older brother. The high protein, fat and sugar content is perfect for new mothers to regain strength and feed their babies. It's also super-delicious!
At The Collective we've been keeping our members connected (and fed) with a new event series; Cooking From Around The World. Designed to celebrate different traditions, cultures and communities, we're bringing the best of London's multicultural food scene into our members kitchens. They get a box of fresh ingredients delivered to their door and join an online cookery session to learn the techniques and traditions that surround each dish. Find out more about living at The Collective here.