Working environments have come a long way in the last 10 years. Uniform underground basements with fluorescent strip lighting have been replaced with open plan, Pinterest friendly spaces; or our very own homes. With the rise in freelance and flexible working, and the COVID-19 pandemic, more and more people are working remotely than ever before.
Though remote working offers many benefits, it's not always easy to create an inspiring and productive environment at home. Enter co-living, a way of staying and living focused on both convenience and community, that allows the remote worker to thrive. Here's how.
1) Specially designed workspaces
One of the many benefits of living in a co-living building, is the wide variety of spaces to work from. At The Collective, co-living pioneer with spaces in London and New York, members get access to all sorts of Instagram-worthy spaces. Think co-working spaces with desks, tables and comfy sofas; lounges with plenty of natural light and skyline views; and bookable meeting rooms with conferencing technology where they can entertain and pitch to clients.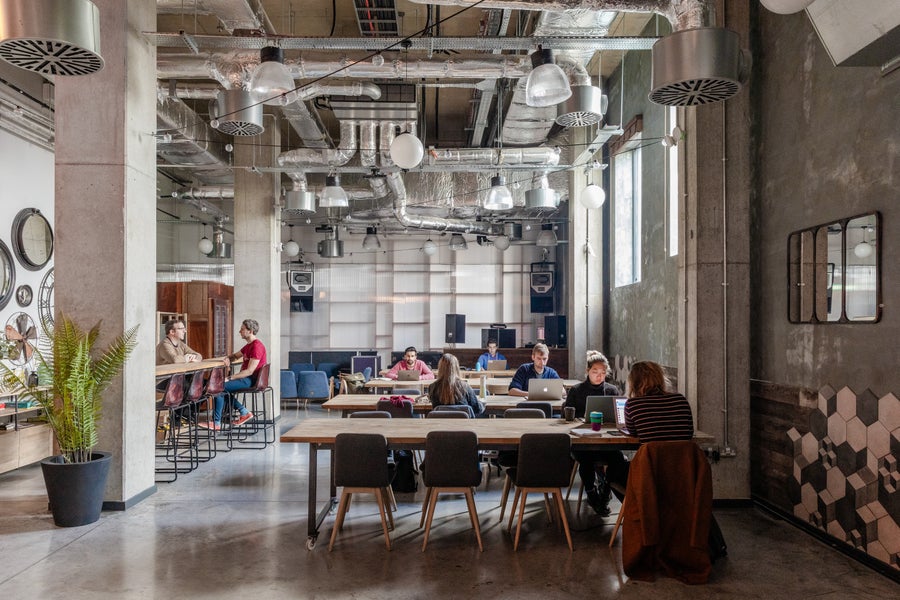 2) Access to a professional network
In the same way that a large dating pool can be useful when you're looking for love, so can access to a group of other professionals and entrepreneurs. Whether you need to learn from other industry experts or speak to a financial adviser, marketing expert or graphic designer, in a co-living space you're sure to find someone (or someone who knows someone) who can help.
"It's a great way to meet like-minded people and grow your network. There's a variety of shared spaces that you can work from, such as a quiet room for tackling stressful deadlines, and a living room for hosting client meetings." Laura Fele, graphic designer & member at The Collective Canary Wharf
3) Events to up-skill, unwind and think outside the box
From HIIT classes to business bootcamp, co-living offers a huge selection of talks, classes and social meet-ups. Get creative, share ideas, make connections, learn from others and collaborate together. You can even run your own events to test a product, get feedback or simply grow your audience. An interested and supportive community who can act as an excellent sounding board.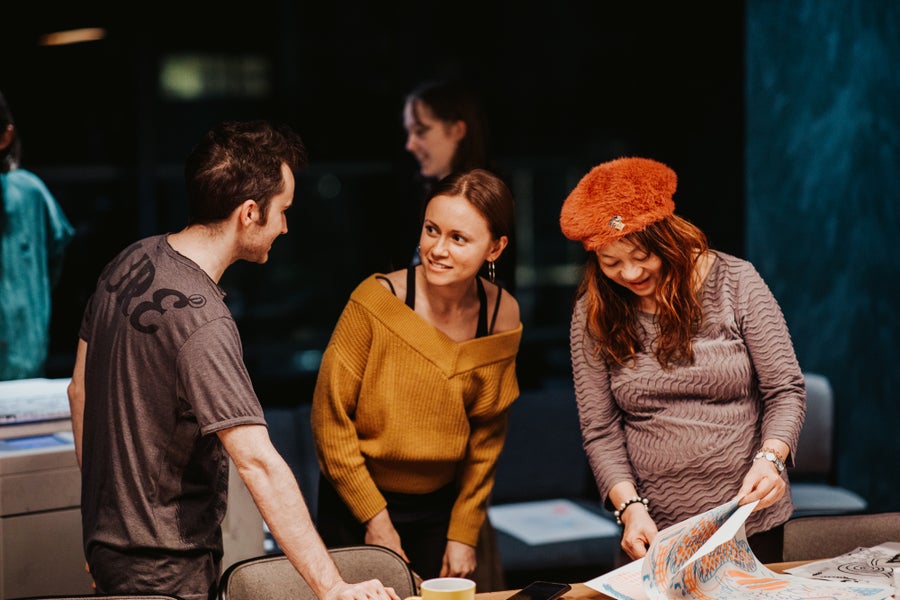 4) Work-life balance
When you have a gym, spa, sauna and a huge variety of serene spaces in your home it's a whole lot easier to find that perfect work-life balance. If you're feeling stressed about your big presentation or have had enough of the "you're on mute"s, you can take a few minutes out from your working day and head up to the roof terrace for a breather. Or retreat to your private studio and order an Aperol spritz direct to your door.
5) More free time
With all sorts of functional benefits, co-living allows you to free up your time and maximise your productivity. Imagine living in a well connected city location, with your workplace, gym, restaurant and your private studio all under one roof. Imagine things like cleaning, utilities and wifi were all included in one monthly bill so you had time to concentrate on the important stuff. Sounds good right?
"Having cleaners, maintenance and the front desk on site has made life so easy when I've been super-tired and busy." Eloise Lo Santo, yoga teacher, member at The Collective Canary Wharf.
The Collective designs, builds and runs a growing network of innovative co-living spaces, perfect for remote workers. There are two in London, one in East and West. You can dip your toes in for a night or two, or take the plunge and move in for a year. Take a virtual tour, book to see the spaces or find out more about co-living at The Collective HERE. Discover the possibilities.