The figures are showing it – the age of the remote worker is here. There are an estimated 429,000 freelancers working in London, making up 21 per cent of the UK's freelance workforce. The number of self-employed Londoners has risen 59% since 2008* – an increase partially attributed to shifting attitudes towards work, in favour of flexibility over the 9-5 grind. With these changes comes an increasing need for interesting and inspiring places to work in the capital. Here, we take a look at the 15 of the best spots to work remotely in London.
Central:
The Welcome Collection
One of London's most unusual free museums, which connects science with art, the reading room on the second floor provides an interesting location for freelancers to work. It's a gallery and library in one, with comfy sofas and Wifi – and a postbox where you can send a card for free anywhere in the world.
The Ambrose Cafe, Heal's
A furniture shop in the heart of bustling Fitzrovia may not sound like the most likely place to work for the day, but this is one of London's best-kept freelance secrets. Their cafe provides a big wooden table where you can plug in your laptop, and table service means you don't have to worry about packing up every time you want to order more tea.
The British Library
The UK's biggest library is a calm and quiet place to work, especially if your job requires research and access to the 25 million books and articles located there. All you need to do is get a free reader's pass to access the library and you're good to go.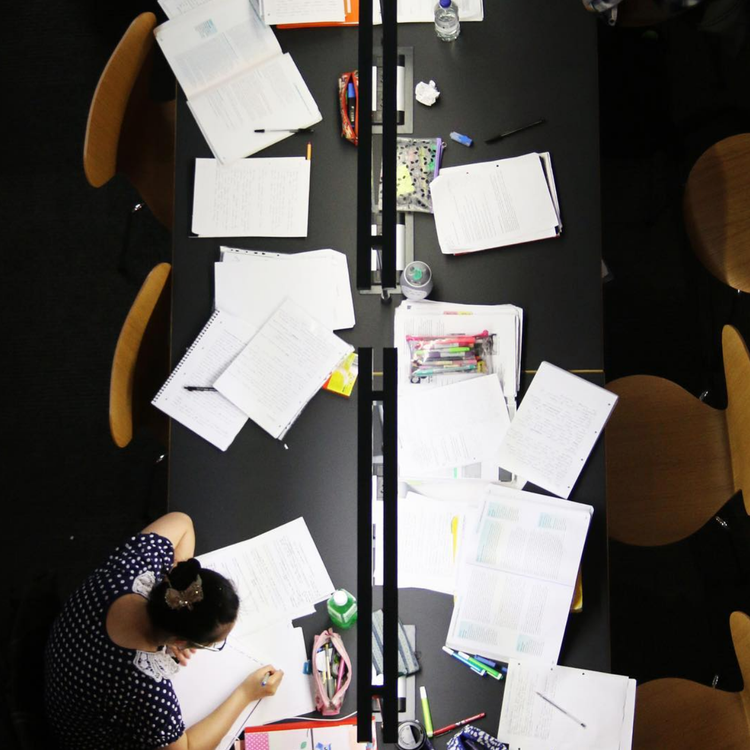 North:
Coffeeworks Project, Angel
Located near Angel tube station, this laid-back independent cafe has plenty of tables and quiet music. The staff are known for not rushing you, which makes it extremely popular with freelancers – just make sure you get there early enough to bag a seat and laptop plug.
Sable D'or, Muswell Hill
This artisanal French cafe in upmarket Muswell Hill serves a wide choice of pastries and crepes throughout the day to fuel you through your work. For those early birds, it opens at 7.30am. Head for the spacious, industrial upstairs to get yourself a quiet spot.
Drink Shop Do, Caledonian Road
A vintage-themed bar by night, by day this has become a hub for freelancers fuelled by their extensive selection of teas and cakes. It's the perfect place to hold quirky meetings, as they offer a range of free activities to break the ice with clients, from building lego robots and flower arranging to even making singer Lionel Richie's face out of clay.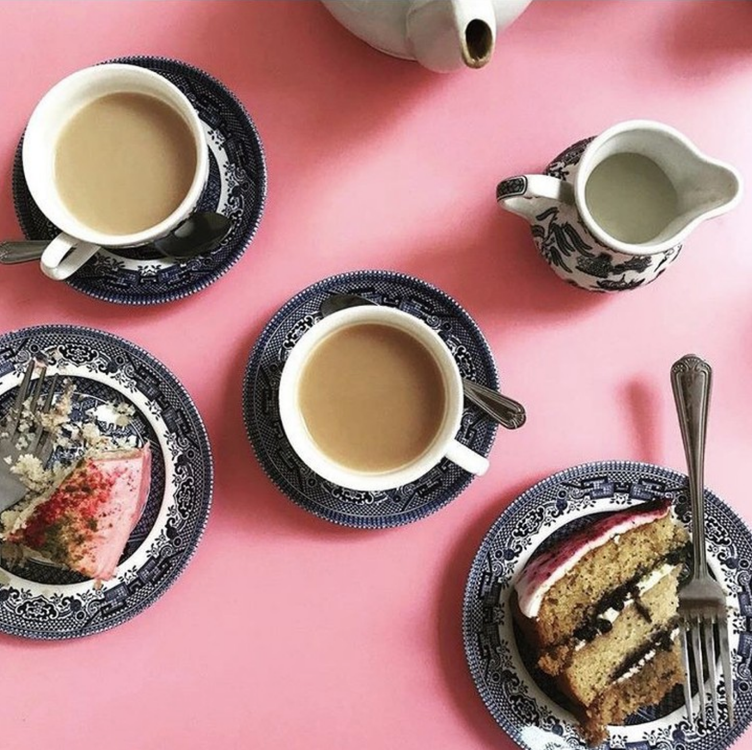 South:
Wimbletech Wimbledon
A former library, this has been transformed in conjunction with the local council into a co-working hub for over 140 freelancers and start-ups. You can choose from various memberships, including flexi – where you have access to a floating hot desk as you need. They also hold various events such as talks and training sessions.
The Peckham Pelican
This bar and exhibition venue attracts an eclectic mix of artists, freelance workers and students thanks to its large work area and inspiring artistic surroundings. And once you're doing with the working day, check out their massive range of evening events from supper clubs and spoken word to film and music nights.
John Harvard Library
Regardless of whether or not you live in Southwark, you can become a member of this little library and gain access to their 24 public use computers. But if you want to drink coffee while you work, head to their cafe, Mouse Tail Coffee Stories (named after the ideal shape of a stream of espresso) and plug into the free wifi.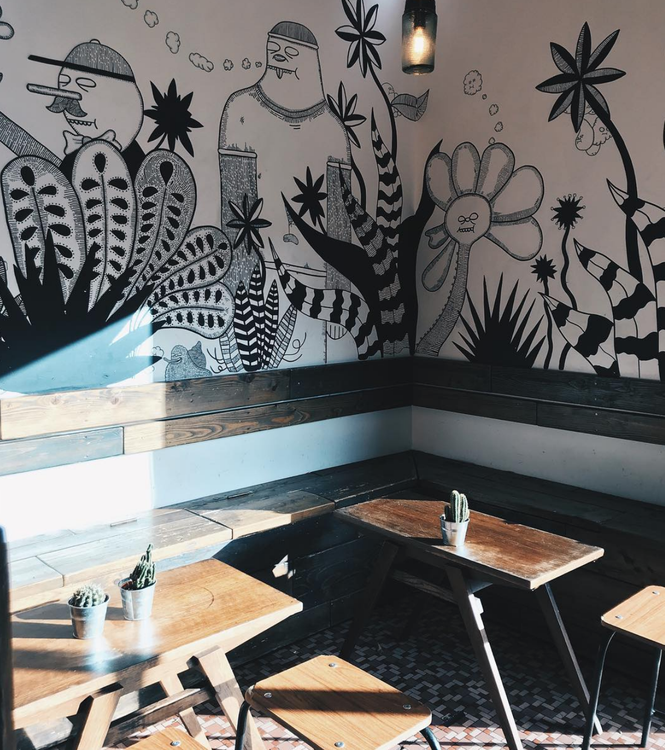 East:
Hoi Polloi, Shoreditch
This hip hotel chain's restaurant, Hoi Polloi, has handily-placed plug sockets on every table, making it extremely popular with the freelance media types of Shoreditch. The hotel's lobby also doubles up as a handy workspace, with a huge communal table and rotating art to inspire you.
Second Home, Hanbury Street
A self-described 'workspace for creative nomads', this unusual work hub boasts a beautiful hanging garden, unusual perspex architecture and Scandi-style furniture. It's members-only, but if you don't want to fork out on a joining fee, their restaurant featuring former staff from Middle-Eastern chain Ottolenghi is open to the public.
The Good Hotel, Royal Victoria Dock
This floating hotel, staffed by previously long-term unemployed locals, came over from Amsterdam in 2016, and will be moored at the up and coming Royal Victoria Dock for the next two years. Their lobby features neon art, free Wifi and plenty of space to work as you gaze out until the calming waters of the dock. In summer, you can unwind during your lunch break with one of their seasonal rooftop yoga classes.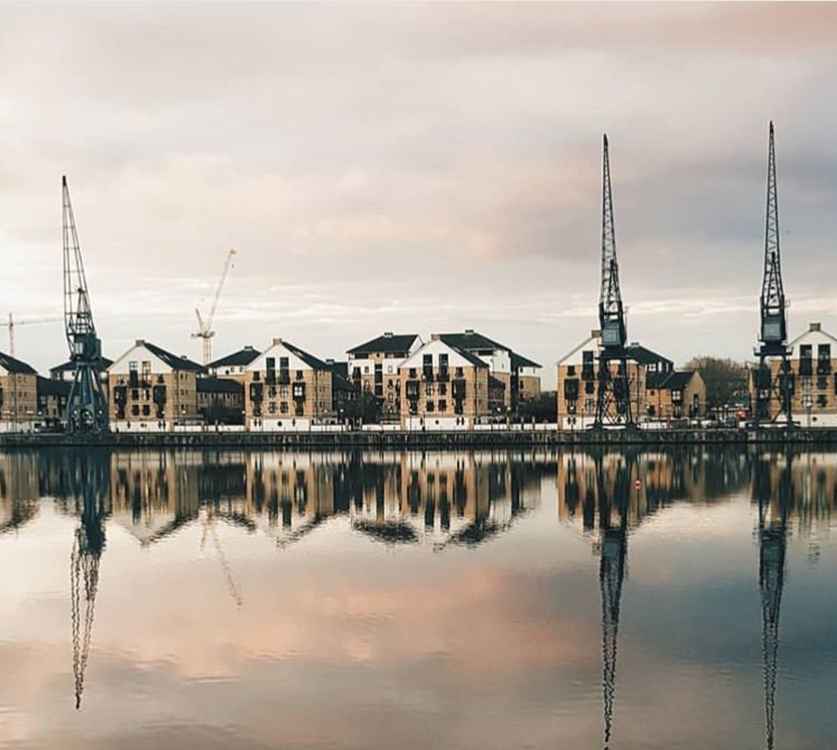 West:
The Exchange at The Collective Old Oak (pictured, top)
You can pick your own way of working here, from hot desk-ing to booking out an entire meeting room, and your membership fee includes access to super-fast wifi, printers and lockers so you can keep everything you need for work in one place. Members also get access to other amenities like discounted use of The Collective Old Oak's gym.
Peter Jones, top floor restaurant
If you fancy working with a view, this department store restaurant boasts impressive views over west London thanks to its panoramic windows. You'd think it would be pricey, but freelancers love coming here thanks to their wide selection of affordable cakes, homely cooked food and coffee, as well as free wifi.
Granger and Co, Chelsea
For those who prefer to start work late, the word is that 3-6pm is the perfect time to come here as it quietens down – first, start off your day with a visit to the neighbouring Saatchi Gallery. For health-conscious workers, this Aussie cafe is known for its large smoothie menu featuring ingredients such as cacao, matcha and avocado to keep your energy up.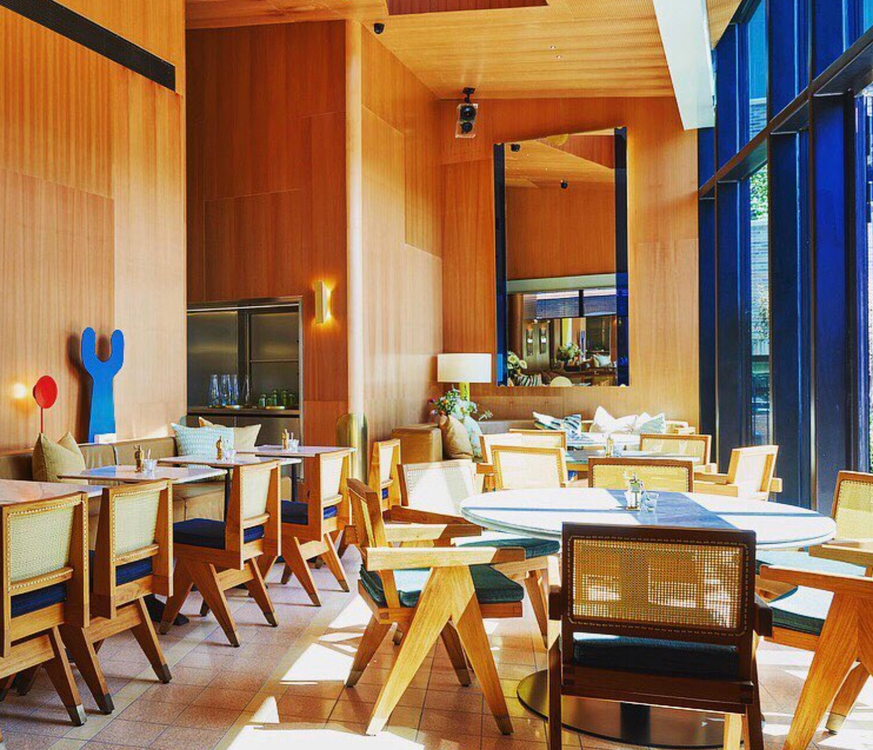 *Source: Kayte Jenkins; Small Business Research Centre, Kingston University London: 'Exploring the UK Freelance Workforce in 2016'
For more info on co-working at The Collective Old Oak, head here.