Following the first virtual planning committee meeting held by the London Borough of Wandsworth last night, global co-living pioneer The Collective has secured planning permission to transform a site on Chatfield Road in Battersea into a new 263 room co-living led, mixed use development which will include affordable accommodation at discounted rates for local people and key workers, as well as employment and community spaces, and creative space for local artists.
Located close to the River Thames, The Collective Battersea will comprise 112,000 sq ft of space across two buildings of eight and seven storeys, which will respectively include 182 long stay co-living units, with minimum tenancies of 6 months, and 81 rooms for shorter stays upwards of one night up to a few months. Construction is due to commence later this year or early 2021, with opening scheduled for 2023.
In line with The Collective's mission to benefit the wider community surrounding every new co-living site it delivers, and in keeping with its other Wandsworth development at Trewint Street in Earlsfield, the long stay co-living rooms will be marketed exclusively to local people and key workers first, with 35% of the rooms comprising affordable accommodation offered at discounts of up to 30% of market rental levels and accessible to locals with income levels from £22,000 per annum. Furthermore, the short stay co-living rooms will provide an important contribution to inward investment in the area, targeting corporate bookings and partnerships with local businesses and institutions. A proportion of the short stay co-living rooms will also be set aside for people on the Council's temporary housing list to provide emergency accommodation for those who need it the most.
The buildings will be connected by a multifunctional ground floor comprising a range of amenities and communal spaces for both members, residents from the local community and local organisations and charities. These will include a 2,000 sq ft destination restaurant, 11,400 sq ft of workspace for local start-up businesses, study facilities, as well as a 1,700 sq ft flexible community space for local events, arts and cultural exhibitions and talks.
The multifunctional ground floor will form a fully accessible internalised public realm, where Collective members can integrate with the local community and connect through a programme of events and social, cultural and economic curated activities within the diverse range of spaces.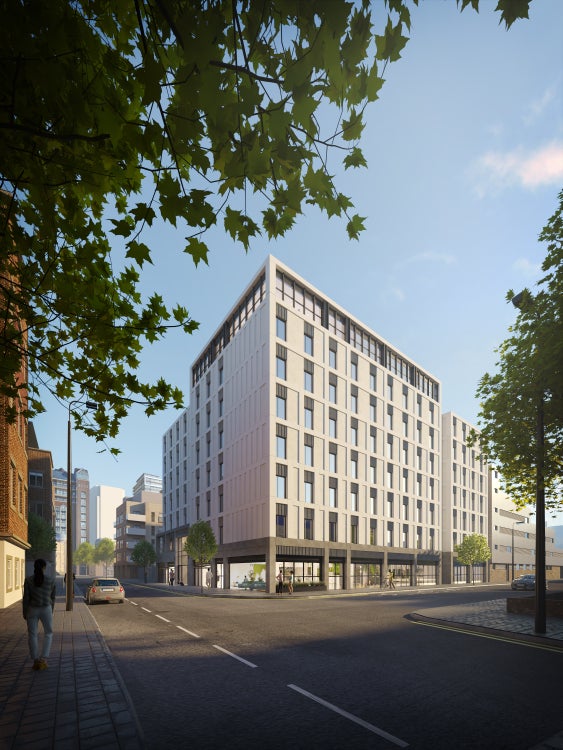 The Collective Battersea will form part of an emerging cultural quarter in Battersea anchored around both the Royal College of Dance's new global headquarters, which are due to open later this year, and the Royal College of Art's new state-of-the-art building, which will follow in 2021. The plans for The Collective Battersea, designed by award-winning local architect Assael Architecture, were conceived following extensive local engagement with the community, with feedback from over 1,000 local people through a mix of design workshops, physical exhibitions, one-to-one meetings and the use of advanced technology in the form of Built-ID's online engagement tool. The Collective's diverse and comprehensive programme of engagement with local people focused upon both face-to-face and technology-centric approaches and helped to inform a shared vision for the scheme which will ensure that it directly contributes to local needs.
The Chatfield Road site is well-connected, in close proximity to Clapham Junction and Wandsworth Town transport links, and The Collective's members will be encouraged to use sustainable modes of transport, the scheme is zero car parking, with access to 249 cycle parking spaces including storage for folding bikes.
The Collective Battersea will set the bar for the co-living sector in terms of sustainability and environmental performance in line with the company's purpose to improve people's quality of life. The building has been designed to achieve WELL Certification, the leading global tool for health and wellbeing in the built environment; and to target a GOLD standard for building fabric, layout and design as well as operations such as the promotion of healthy food and lifestyle for members and staff. The scheme includes urban gardens, roof level allotments, and a range of tools to enhance biodiversity in the local area.
James Penfold, Global Corporate Affairs Director at The Collective, said: "We are extremely grateful to Wandsworth Council for working through the current difficult circumstances to go ahead with one of London's first virtual planning committee meetings, and ultimately granting consent for this project. We are of the firm belief that this type of proactive action by the council, and public-private sector partnership working, will help to ensure that the Wandsworth economy and London is well placed to recover quickly as we emerge from the COVID-19 crisis and into the future.
"Once complete, The Collective Battersea will deliver significant value and a positive impact on the local area, with a significant amount of affordable accommodation for local people and key workers, and a prospective 120 jobs for local people, delivering much-needed community facilities for members and local residents, and achieving the highest environmental standards. We are pleased this project aligns so closely with our purpose as a company, and that by engaging, working with, and listening to local people we've created a shared vision that we can all be proud of for many years to come.
"At a time when loneliness and social isolation are having a profound impact upon society, The Collective's co-living model is now more than ever providing valuable community and social support benefits to its members and wider communities, helping with their mental health and wellbeing."