We recently got together with Canary Wharf member, Varuni to plan an interactive Diwali celebration for the community. Here we chat about the rituals, beliefs and delicious sweet treats that surround this day in the Hindu calendar. Read on for Diwali gift inspo, recipes and some spiritual learnings we could all benefit from.
Varuni, tell us a little bit about yourself. Where were you born, what bought you to London?
I have never known only one home. Born and brought up in India, I made America my home for about two years at the tender age of 10, before nesting my way around various homes in the Indian subcontinent. My adventures then led me to Europe where I completed my Master's Degree in Mathematics, all while searching for the best apple pies in the Netherlands and gelato in Italy.
I moved to London about 5 years ago and currently work within the Financial Services industry. This wanderlust to explore, to experience new things, to learn from people is what defines me and has shaped the person I am today; one who thrives in challenging situations and never gives up.
Why did you choose to make The Collective your home?
My journey with The Collective started back in 2016 at Old Oak and I have not looked back since. I love the concept of minimalist living, learning about new things through the numerous events, and having the opportunity to meet a diverse group of people. When I am not working I can enjoy reading, photography, cooking, watching documentaries and practising yoga.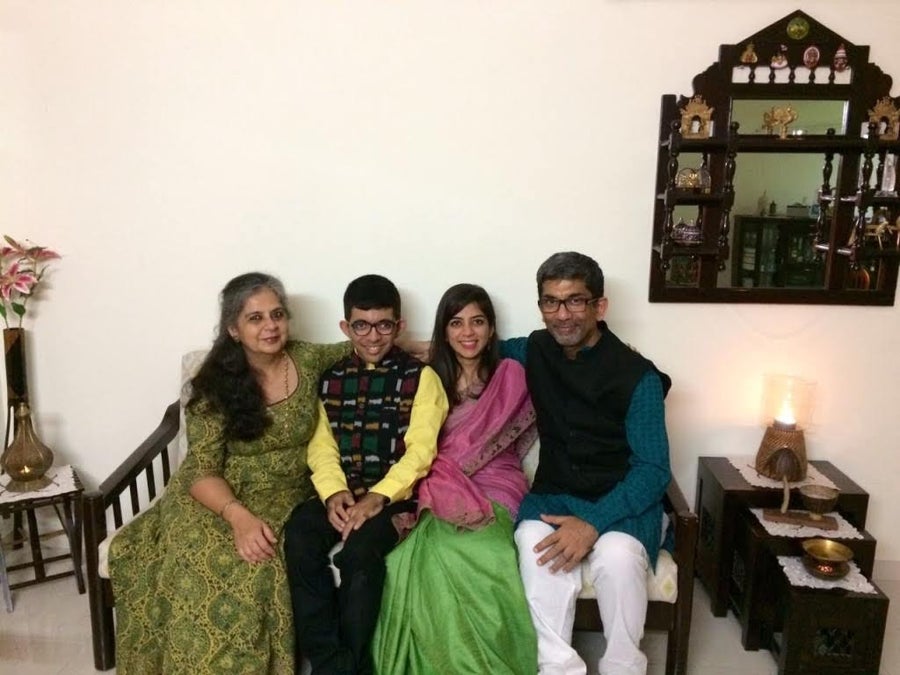 How would you explain Diwali to someone who's never celebrated it?
Diwali is the festival of lights celebrated usually some time between October and November every year. The word Diwali comes from the Sanskrit word "deepavali" meaning rows of lighted lamps. It is the festival of new beginnings and the triumph of good over evil and light over darkness. Diwali also commemorates the return of Lord Rama from his 14-year long exile and vanquishing the demon king Ravana. The celebration is marked by lighting diyas in homes, having a feast with family and friends, wearing new Indian clothes, exchanging gifts, receiving a blessing from the elders and having a puja (worship) at home.
What is the significance and meaning behind lighting up a Diya in your home?
Diyas symbolise goodness, purity and good luck; and lighting them denotes dispelling darkness and going into light. The presence of light means the non-existence of darkness and evil forces. Diwali is celebrated on the new moon day when there is supreme darkness everywhere - people light millions of diyas to get rid of the darkness.
Which Hindu deities should be bought into a Diwali celebration and what do these deities represent? Is there any particular deity you will be welcoming into your Diwali celebrations this year and why?
We worship Goddess Lakshmi and Lord Ganesha together on Diwali every year. Lakshmi is the goddess of wealth, fortune and prosperity and Ganesha is the lord of intellect and wisdom and he is revered as the remover of obstacles. It is believed that on Diwali night Goddess Lakshmi visits each house to bless her devotees with great wealth and fortune. Those worshipping Lakshmi for wealth would first have to worship Ganesha to seek her blessings. To gain wealth one has to gain intellect first with the blessings of Lord Ganesha as without intellect there would only be misuse of wealth. So one must acquire the intelligence to earn and spend the wealth in the right manner.
Diwali is around the corner, this year it might be a little different to others. How will you be celebrating at The Collective?
We'll be celebrating Diwali at The Collective by designing a Rangoli, enjoying some traditional Indian sweets and snacks, all while enjoying some Bollywood music.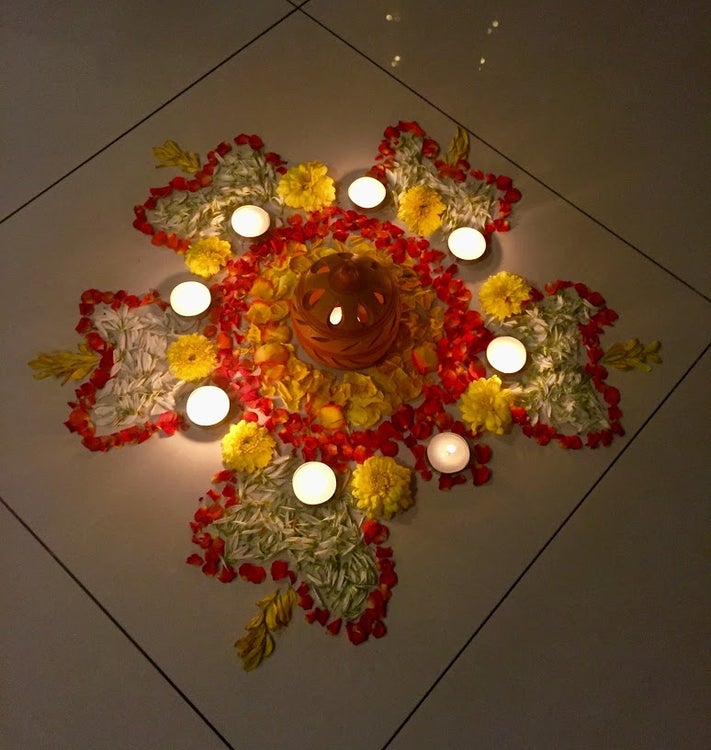 What is a Rangoli, where in The Collective will you be creating one of these and why is Rangoli making such an important part of the festivities?
Rangoli is an art form in which patterns are created on the floor using materials such as coloured rice, flower petals or coloured sand. A rangoli is considered to be an auspicious sign and is usually placed at the front of the house as it is believed to ward off any negative energies. Rangolis also invoke the good spirits and deities to bring good luck to the family. We will be making one...
For those of us who have Hindu friends and family, is there a particular gift we can send our loved ones over this time? What do you recommend?
I would say traditional oil lamps, Indian sweets or home decor items would make great gifts. The two sweets I really enjoy and are easy to prepare at home are Vermicelli Kheer (you can substitute the vermicelli for rice as well) and Besan Ladoo.
And finally, what do you feel the rest of the world can learn from these celebrations?
There are a number of things we can learn:
1) To remove darkness to bring light in our life. Let the light of wisdom remove the inner darkness not only from us but also from this planet.
2) To remove negativity to bring positivity in our life. Resolve to let go of bad habits and negative thoughts, be more loving and less egoistic.
3) To share to bring joy in everyone's life. (On Diwali we usually buy sweets and share with friends and family.) It's a lesson for us to share whatever good or extra we have with the less privileged people.
4) To have patience. Every ordeal comes to an end no matter how long the wait, time changes and nothing lasts forever so we should keep moving forward without worrying about the length of the journey.