In this week's member spotlight our longest standing member Adam shares his tips on making friends in a new city, and why he chose to make The Collective home for 4 years.
Adam, you were one of the first people to move into The Collective. How would you describe what it is to someone who has never heard of this way of living?
It's a new style of living where you can enjoy the privacy of your own studio and a range of exciting shared spaces, amenities and experiences that help you to meet new and exciting people every day. The most common way to meet people with similar interests, passions, hobbies, and preferences is at a community event. The events programme is incredibly diverse which helps people from all different backgrounds come together over similar interests.
How would your best friend describe your personality to someone who doesn't know you?
My best friend would probably describe me as someone who is passionate, hard-working, and driven; someone who always tries to help others, and has a real passion for travel.
Moving to a new city and moving into The Collective is quite a lifestyle change! Did you have any worries or fears?
To be honest, I had a couple of main fears. The first was that it was my first time moving out of home and then of course, there was the fear of moving to a new country! But I had no reservations about the prospect of moving into The Collective because it offered me the best of both worlds: the privacy of my own studio with the chance to meet and make new friends.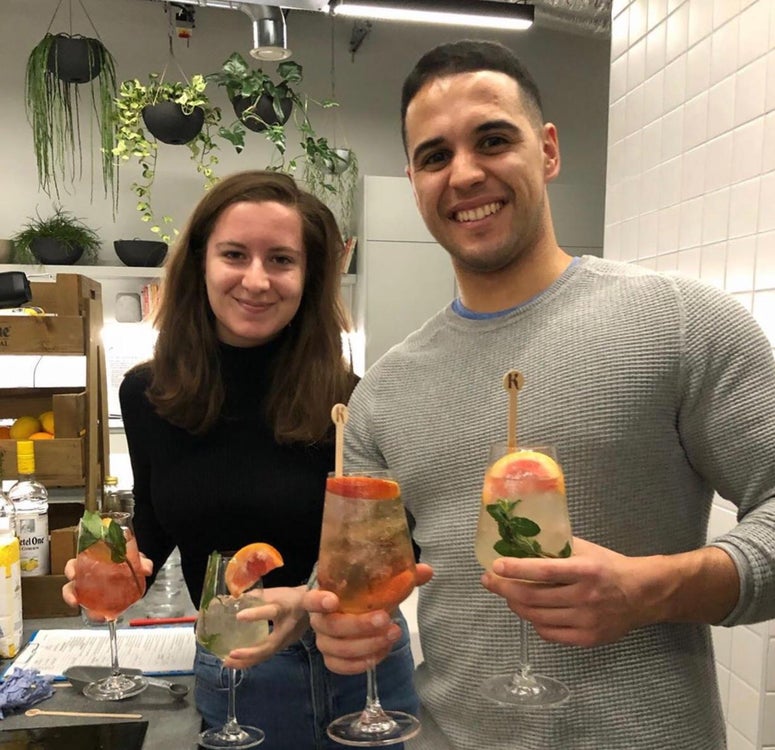 Moving into a community like The Collective means getting to know new people. What's your go-to opening line to break the ice?
'Hey, I'm Adam, what's your name?' It's simple but effective.
What advice would you give to someone who is looking to move cities and might be feeling overwhelmed by the idea of having no family or friends on the other side?
The best advice I could give to anyone who recently moved city or country and wants to make friends would be to get involved and to take part in the diverse selection of events The Collective has on offer. This is where you will find so many different types of people; it's easy to find someone you want to spend more time with.
How long did you originally plan to live at The Collective?
Initially, I was planning to move into Old Oak for a year but then after 3 years of living there, Canary Wharf opened up so I moved there for another year. So, what was originally supposed to be a one year plan ended up being a 4 year experience.
As a fitness entrepreneur, tell us a little bit about how your business began?
I started the fitness and online coaching brand, Fitmego, with a friend I met whilst living at The Collective. However, my business partner changed direction which meant I could live my dream of being a solo entrepreneur. On top of that, I partnered up with another friend who also lived with me at The Collective where we went on to develop another App. We managed to receive support from the community for product testing stages, which was incredibly helpful.
What has been your biggest takeaway from living here?
My biggest take away from life here was that surrounding yourself with driven, like-minded people who have the same ambitions, desires and passions is so important for your own personal growth.
Adam, why have you decided to leave London and what's next?
With everything that has happened with the recent pandemic, it's been quite challenging. However it has also made being able to do work remotely a lot easier which means I will be setting up shop with my family back in Spain. After that I will be looking to make my way over to Poland where I will be visiting my girlfriend for a month and continue my travel journey on to Asia, Australia and then back to Europe.
We'll miss you Adam! If you think The Collective could be your new home, start your journey by booking in for a tour with our team.