We're always inspired by our members' creativity, drive and compassion for each other. Old Oak member, Marlon is one of those people who puts in the time to bring his skills and energy to the community. Every Monday he runs an open improv session that anyone can join. It's been a journey filled with playful games, laughing fits and shy members breaking out of their shells.
Can you tell us a bit about how you came to The Collective Old Oak?
As an actor moving to the city, I was looking for somewhere flexible. My mum actually found The Collective and I've been here nearly 3 years. The majority of the people I know in London I met here.
Tell us about your improv group? How did it come about?
The improv club was actually started by another member and when they left, the team asked me to take it over. I've been running it since February 2018 forming a troupe from the club called the North Actin' Crew. It's a pun on where we are based. and we've put on around 5 shows together since then.
I don't treat it as an acting class, it's more like a fun activity to do on a Monday evening. We do lots of team building exercises to help people break out of their shell. It really helps build self confidence.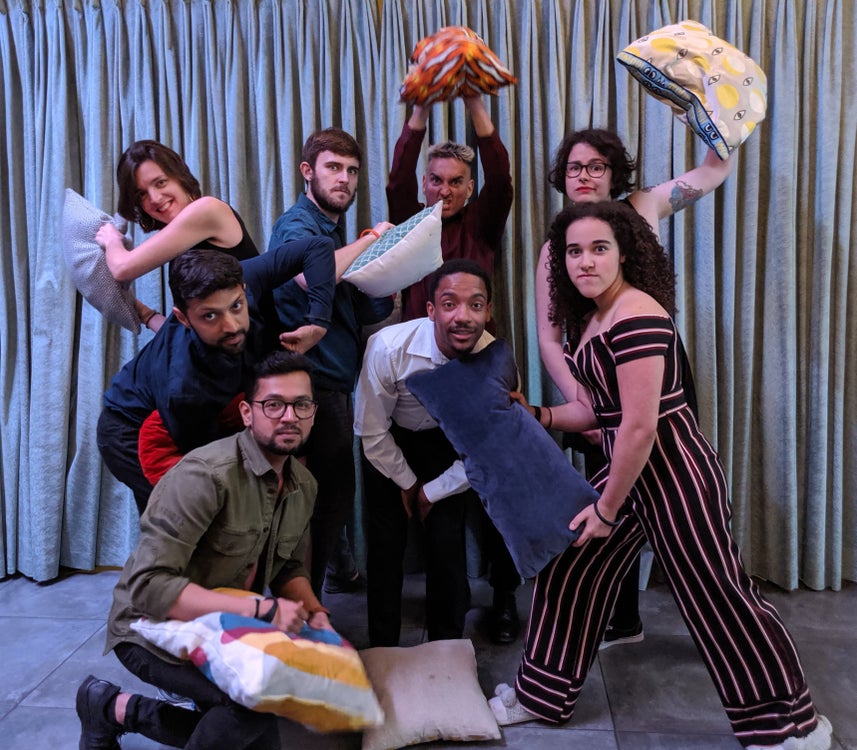 What's your favourite acting exercise?
My favourite is a game called New Choice. Two people start an improv scene and whenever I say 'New choice!' they have to switch up the last line they said. You really have to think on your feet. It can be very funny and spontaneous.
Another good one is guess the animal. Which is great to make a fool of yourself and have a good laugh.
What are the highs and lows of running an improv group?
Sometimes it can be hard to keep numbers consistent because people have their own lives.
There's a mixture of outgoing people, then people who are a lot more shy. But coming along to the group really helps raise their self confidence. I like to think that it broke them out of their shells. It's nice to be part of a community, have fun together. Sometimes members get into fits of giggles. They just can't stop laughing.
What do you think you've learnt from doing it?
I've learnt how far I can push people without them being uncomfortable. Some people need a softer approach, especially if they are supper nervous. One lady came and only participated in half the games. And that was fine too.
Do you have any tips for those people, or anyone who lacks confidence?
Do improv! Try and put yourself out there without worrying about other people judging you. Just forget the audience. Improv also helps with public speaking, not just for confidence but also projecting your voice and having good body language.
Where do you see the improv club going next?
We were planning a show but we've had to postpone it because of COVID. I also wanted the North Actin' Crew to perform at head office and The Collective Canary Wharf. Hopefully we can next year!