In honour of Black History Month, we partnered up with Canary Wharf member, Indie who brought us a taste of her Nigerian favourite Jollof Rice, with chicken and plantains. Over two supper clubs, members learnt all about the historical and cultural significance of this dish, whilst tucking into its layers of spice. Her dish then became our feature dish for October, available on our in-room menu, with all profits donated to Black Lives Matter. Below we speak to Indie about good food, Nigerian customs and the work that still needs to be done to tackle racism.
Indie, tell us a little bit about yourself and your journey.
I'm an American, Italian, British, Nigerian living in lovely London. I am a Senior Programme Manager for a startup tech company by day and a professional singer by night. (I've understudied for Dream Girls and Lion King.)
Wow that's awesome. So what brought you to The Collective?
I moved to the Collective in June because I wanted to make new friends. (I usually work so much I never have time to meet people.) I've lived in London for many years now and have never explored, so i'm really looking forward to connecting with people in this community. I'm also a little bougie and definitely like the finer things in life.
Tell us about your dish and why it reminds you of home.
Jollof rice is a spiced rice that's simmered in tomatoes onions peppers chilies and so many herbs and spices. It's an aromatic dish that leaves your house smelling like pure heaven.
This dish is iconic in West Africa, specifically Nigeria but over the years different countries within West Africa have taken and made their own versions off it. It's a bit of a competition as to who makes the best Jollof rice.
It's normally accompanied with panfried chicken, plantain and a salad but it is so versatile and can be adapted to whatever you want. The rice is actually vegan so anyone can eat it.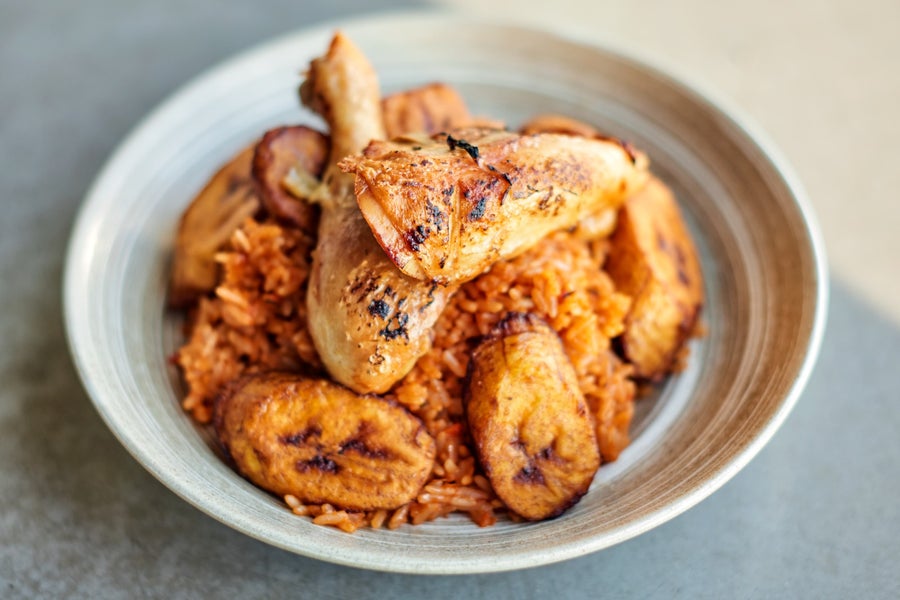 What Nigerian customs and traditions surround it?
Jollof rice is a staple dish for all celebrations, bringing people together to create memories and tell stories.
In Nigeria we like eating together. Food is always used as a celebration, an opportunity to connect and a chance to laugh. During meals the oldest person around the table starts the conversation by telling a story. The younger people, regardless of gender, show respect by serving food to the older people first. It's quite sweet really. A spoon or 2 of something is normally enough, then the older person will just continue to serve themselves.
If you could invite anyone to dinner, which Nigerian change-maker would you chose?
I would love to have dinner with a fantastic musician called Jidenna. His story and what he's doing for Africa and women is breath-taking.
Jidenna is mixed race and was bullied so much for being different both in Nigeria and when he moved to the States. When he was older, his music became a way of empowering young Black adults regardless of the shade or tone of their skin.
He has been actively working to empower women of colour, specifically Nigerian women, to have a say in how they live, with confidence in their community. He has also been encouraging people to see the beauty of Africa and celebrate the greatness of what it offers. I think we need more champions like him.
Your dish was selected to become our feature dish for October, with all the funds to be donated to Black Lives Matter. What advice would you give to organisations who want to support Black causes?
I'm really excited about this dish raising funds for BLM. This year has been hard. It's highlighted the unresolved issues around the world, of being someone of colour. We are either the target of a lot of aggression, or the butt of jokes for unfriendly stereotypes and false assumptions. We need to create a world where everyone can feel safe, equal, valued, loved and cared for.
Our mission should be to educate and celebrate. Not just for the month but forever, we should be creating action plans for change that go beyond protesting. Black history is often something that is misunderstood, misinterpreted or just hidden which means that people often have a skewed view.
It's the easiest thing in the world, just start by asking questions. There are loads of online communities you can join where people will answer your questions and give you support. Explore, do you own research, learn about slavery and what life has been like since then. Watch testimonials of people's experiences and the pain they feel. Read about true Black history before slavery and understand who we were as people. We were kings and queens with self sufficient empires. Read about modern day Africa and what it is compared to what a small few with loud voices says it is.
Make friends. (Lets be friends!) Meet new people, explore different ways of life, learn to see the beauty in differences. It really excites me to be surrounded by so much colour, beauty and creativity.
Indie thanks so much for taking the time to talk to us. One last thing, do you mind sharing your recipe for Jollof rice?
Of course! I really want everyone to feel comfortable eating it. I want them to be soothed from the inside out. Here's my mum's recipe, handed down from generation to generation. I can't stress this enough but most Africans don't measure so please add larger amounts of spices if needed. What we measure is the love that goes into making it. Serve with chicken, roast or pan fried in salt, pepper, garlic and thyme.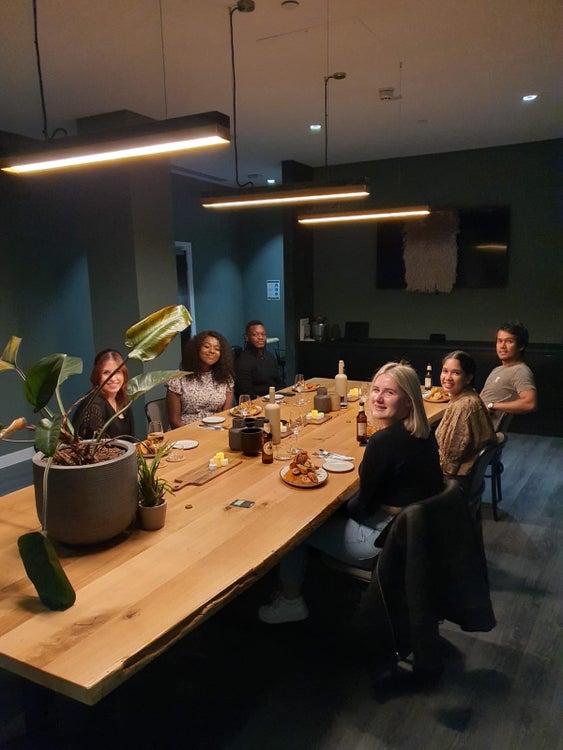 Ingredients
4 tbsp of oil (Any will do, use more if needed, this isn't a diet meal.)
4 cans of tomato (Doesn't matter what type, you're blending it anyway.)
1 6oz can Tomato paste
2 tsp salt
½ tsp cayenne pepper and black pepper
½ tsp white pepper
3 bay leaves
3 large red onions
2 red bell peppers
2 scotch bonnets (If you can't find scotch bonnet, use habanero. Put as much or as little as you want, depending on how spicy you want your rice. It originally has 4 but let's not kill people.)
4 1/2 cups of long-grain parboiled rice
2 cups of chicken stock (Or salted veg stock if you want to keep it vegan.)
3 cloves fresh garlic
5 Maggi cubes (If you can't find Maggie, 4 Knorr cubes.)
½ tsp curry powder
½ tsp onion powder (If you have garlic powder add some to.)
½ tsp ginger
½ tsp thyme
3 thyme leaves
2-3 ripe plantains – (No green stuff please, we don't want to give anyone constipation.)
The right way to make Jollof Rice, aka the instructions:
Blend tomatoes, garlic, bell peppers, chilli peppers, and red onions until smooth. (Indie really hates tomato bits so when she was younger, I would have to blend it for years to fit her majesty's palate.)
Add the oil to a large heavy pot and let it get hot.
Once heated add the tomato paste and cook for around 10mins, be careful the tomato likes to spit. (Protect yourself.)
After 10 mins add the blended tomato sauce, you want the oil to still be hot as you want it to fry a little. Cook for 2 mins.
Add your spices -Maggi, pepper, bay leaves, curry powder, garlic, thyme. Mix and fry for about 5 minutes, continuously stirring to avoid burning. (this spits too so, protect your bits)
Rinse your rice – you don't want it to be to starchy.
Add the rice and a little rice water to the pot with the tomato mixture, mix well. (30secs)
Add chicken stock, taste and add more spice if needed.
Mix well, a lot of Africans use tin foil to cover the pot before using the lid but this doesn't really matter.
Cook rice on low heat for about 20-30 mins.
After the 30 mins, mix it really well combine ingredients. (You don't want mushy rice, you want the grains to stand strong so no rice pudding please.)
If you need more time cook for an additional 5-10 mins.
Sometimes to get the specific flavour we will slightly burn the bottom of the rice but that can be tricky.
You want the rice to be sticky but also light and fluffy at the same time. It needs to pop with flavours and explode in your mouth, this isn't a bland dish, this is a loud celebration.
Making the plantain:
Top and tail the plantains, then make a skin-deep cut all the way along the spine of each one. Open the skin and remove the plantain meat. Slice diagonally into long discs roughly 1cm in width and 8cm long. (It has to be cut diagonally, it's not Nigerian if it isn't.)
Add about 4mm of oil into a large frying pan, on a medium heat. While the oil heats, prepare a plate with kitchen paper.
When the oil is hot, test it with one of the plantains, it should sizzle. Fry the plantain in batches. Do not let the discs overlap in the pan.
After 3-4 minutes, turn each disc. The plantain should be golden brown. The thinnest parts, around the edge of each disc, will crisp and turn darker but it shouldn't char. Fry on the other side for 3-4 minutes.
Remove from the pan and add a pinch of salt.